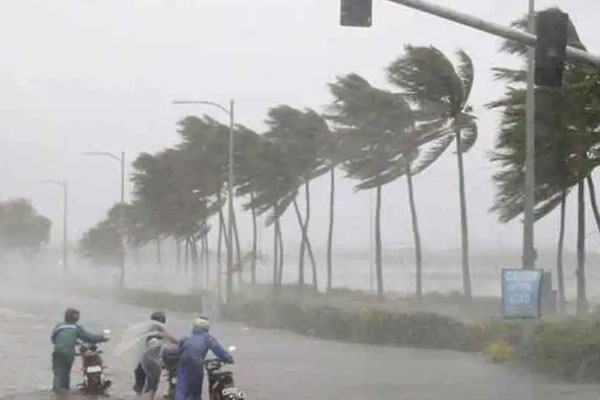 (Image source from: zeenews.com)
Cyclone Nisarga affected Maharashtra with loss of four lives and huge damage property. It is slowed down now after the cyclone attack. Today heavy rainfall is expected with the related weather conditions.
The cyclone came with 110 kmph which was predicted closely by India Meteorological Department (IMD) Post the cyclone attack, National Disaster Response Force (NDRF) to assist and clear the uprooted trees and collapsed houses in the North Coast.
As the depression of Nisarga turned down in the morning, now it will move towards NorthEast by afternoon as per the analysis of IMD. The heavy shower is expected in the Mumbai districts Palghar, Thane, Mumbai and Raigad.
NDRF came with 20 teams which dispersed into 7 teams each in Raigad and Mumbai after the cyclone effect. The teams also assisted in restoration in Alibag.
Four people were killed- two are from Pune and one from Raigad district. Another person who is a minor died in Alibag according to the reports.The cyclone also showed the effect on the cashew, mangoes and betel nut crops, said Raigad collector Nidhi Choudhari.
The Brihanmumbai Municipal Corporation (BMC) said that nearly 20,000 people were moved from Mumbai to temporary arranged shelters. Apart from this, over 30,000 citizens were moved to other safe locations.
Due to the heavy cyclone, houses and cars were damaged. The trees were uprooted and crashed down on the roads. There was road damage and also disrupted power lines.
According to the close reports, it is said that- there were 39 short circuits and nine house damages. The damaged trees are nearly 117 in Mumbai on whole.This is a huge loss counting with 4 lives in the Nisarga cyclone.
Maharashtra CM Uddhav Thackeray said "Maharashtra was hit by a cyclone when we are dealing with Covid-19. While it was a big crisis, we have managed to reduce the damage caused by it. Instructions have been given to the administration to start immediate inspection of the damages."
The cyclone was expected to cross over Maharashtra and move towards Gujarat. The only impact of the cyclone was heavy winds in Saurashtra region. India Meteorological Department's (IMD) Ahmedabad Regional Additional Director Manorama Mohanty said "There will be no impact of Cyclone Nisarga on Gujarat, not even high-velocity winds. Only light rainfall is expected in a few districts of South Gujarat and Saurashtra for two-three days."
By Ramya C