US President Donald Trump Says-"PM Modi Not in Good Mood" Over Border Row With China
May 29, 2020 11:33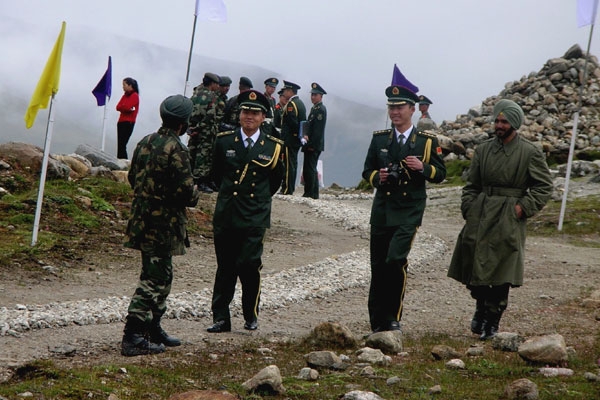 (Image source from: thediplomat.com)
Donal Trump said "PM Modi is not in good mood" with the border conflicts with China. Trump mentioned this to the reporters in the Oval Office of the White House.
Trump had an interaction with the media where he said, a "big conflict" is going in between India and China. To clear the border tensions, Trump offered to mediate between India and China. He also spoke to PM Modi and got an unhappy response about the conflict with China at the border.
Trump said "They like me in India. I think they like me in India more than the media likes me in this country. And, I like Modi. I like your prime minister a lot. He is a great gentleman".
Us President was questioned by a journalist, if he is unhappy with the India-China relationship. Then his answer was,"They have a big conflict ...India and China. Two countries with 1.4 billion people (each). Two countries with very powerful militaries. India is not happy and probably China is not happy".
The day before Trump spoke about Modi's unhappiness about the India-China conflict, India is engaged with China to peacefully resolve the border tensions.
Trump also tweeted saying "I would do that (mediate). If they thought it would help" about "mediate or arbitrate, I would do that".
About Trump mediating offer, Chinese Foreign Ministry did not react or retweet. Trump's tweet to mediate between India-China was on the following day of China saying "Overall stable and Controllable".
With the media, External Affairs Ministry Spokesperson Anurag Srivastav said "We are engaged with the Chinese side to peacefully resolve it".
He also said "The two sides have established mechanisms both at military and diplomatic levels to resolve situations which may arise in border areas peacefully through dialogue and continue to remain engaged through these channels".
Trump's offer to mediate and resolve the India-China conflict is after the recent border tensions. In Eastern Ladakh, around 250 Indian and Chinese soldiers attacked each other. This incident took place on 5 May. In this serious conflict, above 100 soldiers from the two sides were injured.
The soldiers were involved in violence using iron rods, sticks and stone pelting in Pangong Tso lake area which is one of the borders.
Again, a different incident of violence took place at India-China border on 9 May. Over 150 soldiers had a face-off and around 10 people were injured.
Now both the countries must come to a point and resolve the conflicts. It is important to maintain peace at the border.
By Ramya C