5 Year Old Travelled Alone Delhi To Bengaluru- Mother Received Him In The Airport
May 27, 2020 14:41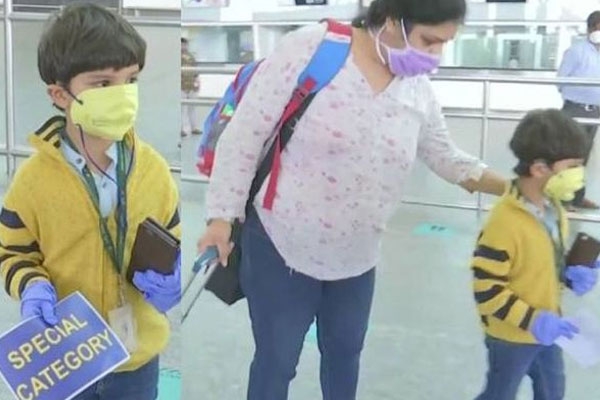 (Image source from: expressnewspoint.com)
Vihaan Sharma, a five year old boy travelled from Delhi to Bengaluru to meet his mother after  3 months. He was bearing a "special category" ticket and his mother received him in Bengaluru airport.

A few domestic flights resumed with special category and Vihaan boarded one of the flights. He visited and stayed with his grandparents for three month ago. He was stuck in Delhi due to COVID lockdown restrictions.

The little traveller followed the health protocol wearing the gloves and face mask. He held a mobile phone in one hand and the "special category" ticket in the other hand. After the reunion of mother and child, his mother Manjeesha carried his backpack and suitcase.

Manjeesha spoke to the media and said "My five-year-old son Vihaan Sharma has travelled alone from Delhi. He has come back to Bengaluru after three months."

An official of Kempegowda International Airport tweeted "Welcome home, Vihaan (Sharma)! Bengaluru airport is constantly working towards enabling the safe return of all passengers".
Welcome home, Vihaan! #BLRairport is constantly working towards enabling the safe return of all our passengers. https://t.co/WJghN5wsKw

— BLR Airport (@BLRAirport) May 25, 2020

By Ramya C