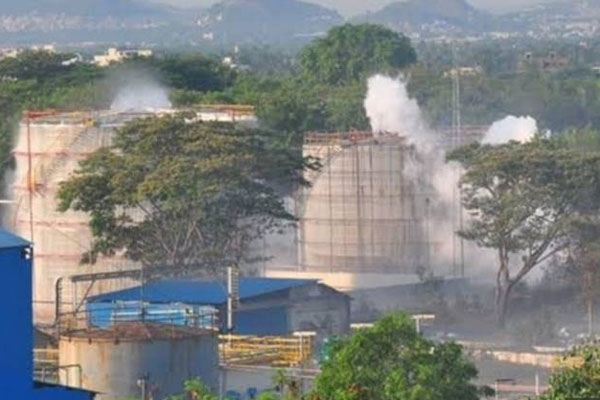 (Image source from: indianexpress.com)
In Visakhapatnam thousands of people were affected due to a harmful gas leakage. The victims who were affected rushed to hospitals soon after the incident. 10 people died among the affected people.A child is included among the dead people. The gas left animals and birds unconscious and led to death.

The incident took place at midnight 2.30 AM on Thursday and Gas reached the nearby places from the leaked area. As officials learned about the leakage, they started the evacuation process. GVMC officials took the right action with mist blowers to reduce the effect of Styrene gas leak.
The shocking Visakhapatnam news circulated with horrifying photos and videos. The leaked gas left the people unconscious on the spot. Several people came to call the ambulances with unconscious children in their arms. The harmful gas caused vomiting and headache as the effect of inhaling it. The local people who were exposed to the gas experienced skin irritation and toxic infection. With the help of the police, around 1000-1500 people were evacuated.
Andhra Pradesh CM Jagan Mohan will visit Visakhapatnam to monitor the situation. He will be visiting the King George Hospital where victims are admitted for treatment.

PM Narendra Modi immediately reacted after the news update. He tweeted stating that he spoke to the officials of MHA and NDMA in order to monitor the situation closely. Modi tweeted about his prayers for everyone's safety and well being. He also spoke to Andhra CM Jagan Mohan and assured to help bring the situation to a control.
Spoke to officials of MHA and NDMA regarding the situation in Visakhapatnam, which is being monitored closely.

I pray for everyone's safety and well-being in Visakhapatnam.

— Narendra Modi (@narendramodi) May 7, 2020

The controlling process is active with the huge number of forces and services. Many politicians and VIPs reacted towards the Vishakapatnam Gas leak- including Union Home Minister Amit Shah, former CM ChandraBabu Naidu.
Saddened by the news of gas leak in a plant near Visakhapatnam which has claimed several lives. My condolences to the families of the victims. I pray for the recovery of the injured and the safety of all.

— President of India (@rashtrapatibhvn) May 7, 2020

By Ramya C