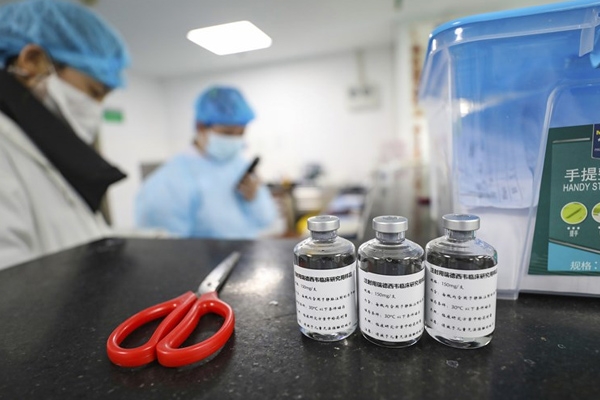 (Image source from: nbcnews.com)
With United States being the worst hit country in the world because of the coronavirus pandemic, it isn't surprising that they have come forth with an array of unprecedented efforts to help come up with an effective treatment option for the novel coronvirus.
As many as 10 drugs are under clinical trials in the US, apart from hydroxychloroquine. With the lack of any available vaccine or treatment options, the coronavirus has claimed over 95,000 lives and infected over 1.6 million people worldwide.
US itself has reported over 460,000 confirmed cases with over 16,000 deaths.
During one of his daily conferences, President Donald Trump stated saying, "As American industry steps up to help, so are America's doctors and scientists. Ten drugs are now in clinical trials and my administration is taking unprecedented actions to make new therapies and treatments available without delay."
He said that the lab technicians, doctors and companies are working day in and day out to come up with suitable ways to ensure better impacts in the future in terms of the overall cure rate in the individuals.
Vice President Mike Pence also clarified that U.S currently has four different clinical trials going on the side for the anti-malaria drug hydroxychloroquine. This drug has been identified as a potent cure for the treatment of the Covid-19 by FDA but still requires more clinical trials to solidify the claims it makes.
Pence further stated on the use of this drug stating, "But it is important to remember that, as the president has made the point many times, the FDA has approved what is called off-label use and so in consulting with your physician, if your physician determines it is appropriate to write a prescription for hydroxychloroquine we are working today to make that available across the country."
India, which is identified as the largest producers of the hydroxychloroquine drug has recently partially lifted the ban on the export of the drug after threats of retaliation from the U.S President.
As Mike Pence has reported saying, there have been four clinical trials ongoing to ensure the efficacy of this anti-malarial drug for the overall cure and treatment of the condition of Covid-19.
The Henry Ford Hospital has been conducting clinical trials for the hydroxychloroquine. They have been conducting the clinical trial at a high rate with over 3000 people taking this medication in placebo to test out its impacts.
Even Dr. Anthony Fauci, Director of the National Institute of Allergy and Infectious Diseases from the National Institute of Health stated saying that a number of clinical trials for this anti-malarial drug are underway.
Out of them, some of these trials are randomised controlled trials which are what is ethically and optimally the safest way to deduce the impacts of a drug. But, owing to the severity of the situation, there are a few other methods that are underway as well.
Addressing these, Fauci stated saying, "It is being looked at against the placebo, it is being part of a multi-arm trial comparing it with others. There is a trial that was recently started actually in prophylactics among healthcare workers so there are several of these."
Anthony Fauci stated saying that they are not just conducting the necessary clinical trials but at the same time, they are also conducting a few off-label use of the drug as well.
Nothing has been set in stone yet about the drug and the possible impacts that are going to come out of it but because the world is on a timer, it is necessary to speed things up to ensure that this pandemic tides over at some point.
By Somapika Dutta