300 suspects isolated in hospital following death reports from Nizamuddin mosque gathering
March 31, 2020 12:00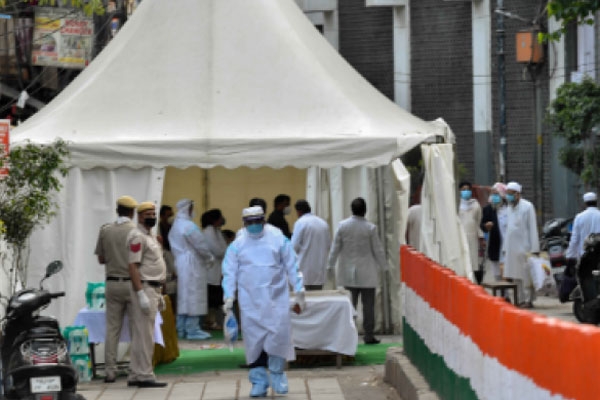 (Image source from: zeenews.india.com)
Over 300 suspects have been taken to various hospitals in Delhi to be tested for coronavirus following a gathering at a mosque that was held at Alami Markaz Banglewali Masjid in Nizamuddin and featured speakers from various international countries including Malaysia, Indonesia, Saudi Arabia and Kyrgyzstan.
Out of the suspects, 24 suspects have been confirmed for the coronavirus and the same has resulted in the deaths of 6 individuals who returned to Telangana.
The event at Nizamuddin was held a day before the 21-days lockdown was announced by the Prime Minister, Narendra Modi.
The authorities took the situation even more seriously when they found possible reports connecting the death of the covid-19 patient in Srinagar with the 11 Indonesians that were tested positive in Telangana.
The police clarified that they have been persistently convincing the organisers to avoid any crowds and even to vacate the building on March 24, 2020.
The event hosted over 1200 people, majority of them hailing from South India. The attendees were escorted to the flights before the banning of the domestic flights.
Even after being escorted out, the police reported that they returned again to the shrine complex in this thickly populated area in Delhi. The individuals are staying in a six floor dormitory, out of which 280 individuals are foreigners.
The sources suggest that the Delhi police has already warned the home ministry about the situation. Addressing the situation, the Delhi government has also advised the police to issue an FIR against the chief cleric of the mosque.
It has still not been deduced whether the man who died in Delhi actually had the virus or not but the area has been completely sealed to ensure that the risks doesn't spread further. The police are making use of drones to keep an eye out on the movement of the individuals.
The only worry that the authorities have is the fact that several of the attendees left the place to travel all over India following the event. They did so in 20-30 buses, so the government is slightly panicked about the community spread.
A man from Andhra Pradesh, who tested positive of coronavirus, also had links to this event.
The police reported that the contact tracing is being done to further get a better idea of the people that have come in contact with these infected individuals in Delhi, Srinagar and Deoband.
The worst case scenario suggests that the same could contribute to a huge surge in the total number of cases in Delhi. Currently, the number of confirmed cases in India is over 1300.
By Somapika Dutta