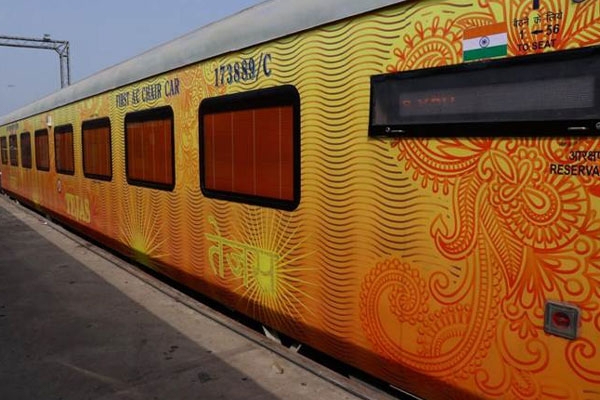 (Image source from: financialexpress.com)
The second commercial train of Indian Railway Tourism & Catering Corporation (IRCTC) has been flagged off on Friday by the Chief Minister of Gujarat Vijay Rupani and top Indian Railway officials which included General Manager of Western Railway Sanjeev Mittal and the Chairman of Railway Board VK Yadav.

The train is said to be fully air-conditioned and is said to be a more premium version of the Shatabdi Express and consists of both Executive and non-Executive coaches where in aircraft-style personalized LED entertainment screens will be present in the Executive coaches.

The Railway Minister Piyush Goyal shared the photographs of the commercial train on his twitter handle as he could not attend the event where in he was scheduled to flag off the train between Ahmedabad and Mumbai.
First glimpse of the new Mumbai-Ahmedabad Tejas Express which will be inaugurated tomorrow.

With state-of-the-art facilities along with the crew's traditional attire, the new Tejas Express is a symbol of Indian culture blended with modernisation for enhanced passenger comfort. pic.twitter.com/HEvoCkBYKX

— Piyush Goyal (@PiyushGoyal) January 16, 2020
Experience fast & pleasant train travel on the new Ahmedabad- Mumbai Tejas Express inaugurating tomorrow.

Passengers of the new train will enjoy world-class facilities like on-board infotainment, free travel insurance & compensation on delays. pic.twitter.com/KWdtIBed5h

— Piyush Goyal Office (@PiyushGoyalOffc) January 16, 2020

The railway subsidiary, IRCTC will be controlling the second commercial train that has been flagged off on Friday. This is said to be the inaugural run of the Mumbai-Ahmedabad Tejas Express and the commercial run is said to begin on January 19.

It is said that local delicacies of Gujarat and Maharashtra will be served inside the train. The tea and coffee vending machines are made available inside the train.

There exists scheduled halts for the second commercial private train at Nadiad, Vadodara, Bharuch, Surat, Vapi and Borivali

The Tejas Express train is said to be run six days a week excluding Thursday and the train will be seen departing from Ahmedabad at 06:40am and will reach its destination at Mumbai Central at 01:10pm on the same day with approximately 6 hours of journey.On its return, the train is said to depart from Mumbai Central at 03:40pm and will be reaching Ahmedabad at 09:55pm on the same day.

IRCTC will be covering the Rail Travel Insurance of up to Rs 25 lakh for all the passengers travelling on the Tejas Express. An exclusive coverage of Rs 1 lakh is also made available against any household theft or robbery during the period of travel.

A compensation is also provided if in case a delay has been encountered over a period of time by the passengers. The compensation of Rs. 100 for over one hour and Rs. 250 as compensation to every passenger if the train is delayed for more than two hours.

By Shrithika Kushangi