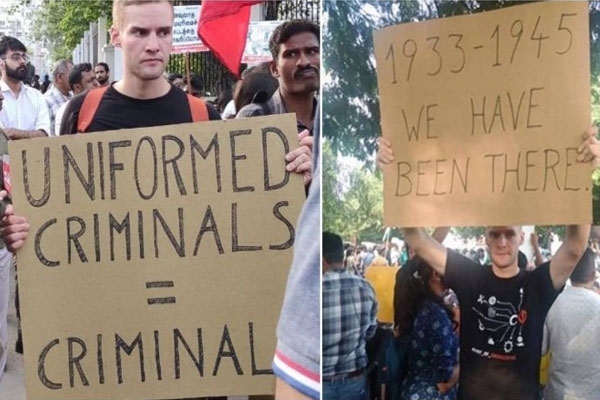 (Image source from: indiatoday.in)
A German student named Jakob Lindenthal was asked to leave India as he participated in the protests against Citizenship Amendment Act. The students of IIT Madras assembled in the IIT campus at the Gajendra circle and carried out a march to the Himalaya block. The march was in harmony with the protests done by the students of Jamia Milia Islamia University and the Aligarh Muslim University.

Jakob Lindenthal, a german student was involved in the protest holding placard that stated "1933-1945 -- We have been there". he also took part in the protest at the Chepauk on the evening of December 16 holding a placard which stated, "Uniformed Criminals = Criminals." He is a German student studying at IIT Madras in the Physics department.

Jakob was asked to leave by the Foreigners Regional Registration Office on December 23, Monday.

ChintaBAR, a student body at the IIT Madras in Chennai, voiced in harmony with Jakob Lindenthal in a tweet.

"ChintaBAR extended solidarity and gratitude to Jakob Lindenthal, for being part of struggles to protect the rights of people in this country and his concern for humanity," it read.
It has come to our notice that, Jakob Lindenthal, an MS exchange student from Germany in the department of Physics at IIT Madras has been asked to leave the country by the immigration department due to his participation in the anti CAA protests. pic.twitter.com/fKSgmkK0A0

— ChintaBAR (@ChintaBAR) December 23, 2019

By Shrithika Kushangi