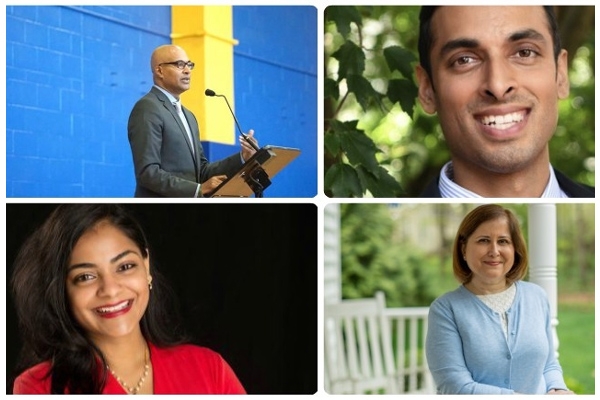 (Image source from: newsbharati.com)
Mano Raju, Dimple Ajmera, Suhas Subramanyam and Ghazala Hashmi made it by winning the State and Local US elections.

Mano Raju

Mano Raju stayed dedicated and worked hard in his field. He is from California and who won the title San Francisco's Public Defender during the election.

He pursued his UG as well as Masters and interned for a while in San Francisco Public Defender's Office.
He researched Critical Race theory when he studied at Columbia University.
He was at the Oxford Center for African Studies and then moved to Berkeley
He studied South Asian Studies as his Masters
Completed his JD at Berkeley School of Law
Dimple Ajmera

Dimple Ajmera did a great job and won the title of the Former Certified Public Accountant. When she first started her education in the US, she didn't know English and with all her efforts she completed her Graduation from the University of California and appeared for the re-election at the Charlotte City Council. She is from North Carolina and she migrated to the US with her parents at the age of 16.

Suhas Subramanyam

Suhas Subramanyam was elected as one of the delegates at the Virginia House.

Looking back to one of his useful contributions, he put his heart and soul by serving as a Healthcare and Veterans policy aide in Capitol Hill. Besides, he invested time in technology and regulatory attorney and worked for Obama's White House technology policy adviser.

He was good at his work as he took up tasks such as the country's technology issues, he worked on creating jobs in the technology sector, controlled latest technology and paid attention to cyber-security and improvised the field of IT in the public sector.

He is thrilled about this new journey to fulfill some of his promises made.

Ghazala Hashmi

It is a wonderful achievement for Ghazala Hashmi to be elected to the Virginia State Senate as she is the first Muslim woman to get there.

In a tweet, she praised everyone who was a part of this journey with her by quoting  " This victory is not mine alone. It belongs to all of you who believed that we needed to make progressive change here in Virginia, for all of you who felt that you haven't had a voice and believed in me to be yours in the General Assembly"

Hillary Clinton was impressed by her progress and she congratulated her on a tweet.

Hashmi quoted "After flipping the Senate, I'll have Democrats by my side to fight to protect Virginians from the climate crisis and senseless gun violence, and work to expand our access to affordable health care and funding for public education. I can't wait to work together in the state Senate"

About 50 years back, Hashmi moved to the US and lived in a small town in Georgia. She studies BA in English from Georgia Southern University and she earned a Ph.D. from Emory University.

She spent 25 years of her life as a teacher in Virginia's College and University.

At Reynolds Community College, she was the director at Center for Excellence in Teaching and Learning (CETL).

By Neha Makhija