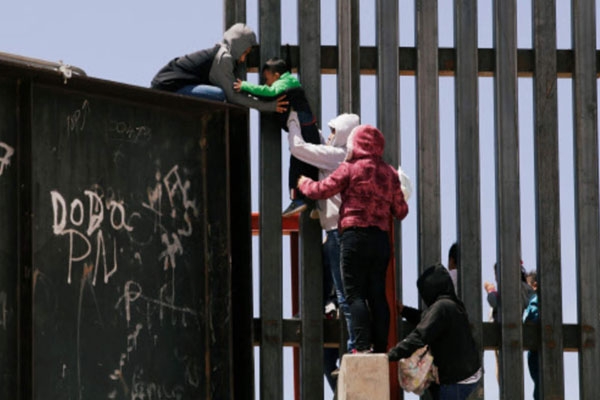 (Image source from: Times of India)
Two video clips of Punjabi men and women crossing a border fence, possibly from Mexico into the United States, along with their children, showed up almost a month and a half after a six-year-old Gurupreet Kaur, from a village in Haryana's Kurukshetra district, died due to heatstroke in the Arizona desert while attempting to illegally cross into the United States from Mexico with her mother.

Indian women and children trying to cross into the United States via Mexico is a new trend. Punjabi men routinely have been taking thumping risks in their do-or-die attempts to travel abroad.

A number of Punjabi men have lost their lives and some have even landed in jails and came back home as they couldn't reach their destinations.

North American Punjabi Association executive director Satnam Singh Chahal said "If these videos reflect the desperation of Punjabi families to reach abroad along with their kids, they also reflect poorly on the governments back home. These videos also show hopelessness and their lack of faith in their governments," he said.

In the latest video clips, elements of haste and desperation are easily seen, said to be shot at the Mexico-United States border, as men, women, and children are seen crossing the fence.

In both clips, people crossing the border are heard speaking in Punjabi. They are seen crossing while local trafficker directing them the way and say goodbye after the cross-over.

In one of the clips, a woman is seen carrying a boy and running towards the fence. A male companion also crosses with two bags. In another, three men, two girls, and two women, including two in turbans, are seen crossing the barrier.
More than crossing the narrow passage, it seems to be tough to cross the barbed wire which is seen pulled down and lying on the ground. Both clips have already been shared widely on social media.

A few days after Gurpreet Kaur's death, a video clip of the group of which she and her mother were part of, had gone viral in June.

The video had revealed there were at least three women in that group including two with their daughters apart from around half-a-dozen young men. In that clip, they were seen alighting a bus and running into the desert. It is clear-cut that the three videos seem to have been shot by the local traffickers.

By Sowmya Sangam