Father Cries Carrying Newborn Baby's Dead Body in Hand as Doctors' Protest Enters Day 4 in Bengal
June 14, 2019 18:17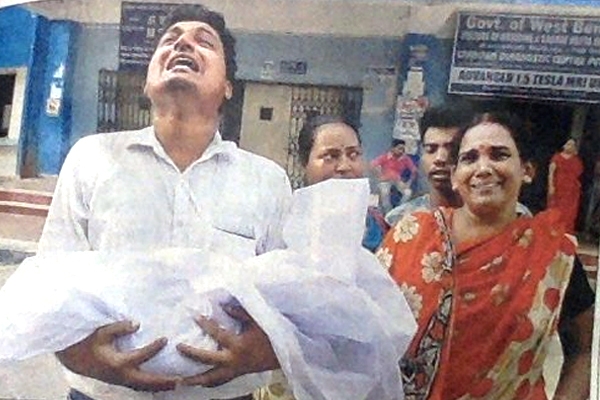 (Image source from: Twitter/DattaDamayanti)
Amid all the chaos taking place in West Bengal by junior doctors, the patients and the kin who are on the other side, are suffering and requesting treatment.
Thousands of kin of patients - admitted in government-run hospitals like NRS, RG Kar and others - are pleading doctors for treatment, but in vain.
In the latest, a photograph is catching the eye of millions of netizens, which is shared by a photographer associated with Bengali news daily Anandabazar Patrika. In the photograph the ordeal being faced by patients in Bengal for the past four days can easily be seen, where a father is seen crying out loud while carrying his newborn body in his hands that died without getting timely treatment.
Between #Savethedoctors and #SaveBengal, here is a father who lost his newborn because doctors wouldn't treat the baby. Today's @MyAnandaBazar pix. pic.twitter.com/xyGsZi92GS

— Damayanti Datta (@DattaDamayanti) June 14, 2019
With things going out of control, Calcutta High Court has given seven days to West Bengal government to respond while hearing a PIL on doctors' strike in the state. Court asked to state what steps were taken by the government to end the impasse. Court also said that the state will have to put an end to this and find a solution.
Doctors in Bengal have launched a massive protest that has now spread across the entire country with services being disrupted in many cities, including Delhi, Mumbai, Hyderabad, and others.
Patients at AIIMS Delhi were turned away and asked to go to some other hospital as doctors refused to work at the outdoor department.
In Maharashtra 4,500 doctors joined the protests, bringing the state healthcare services to a virtual standstill on Friday.
In the aftermath of the strike in West Bengal, the AIIMS has instituted contingency measures to take care of the admitted patients, including those in the ICUs and wards.
By Sowmya Sangam