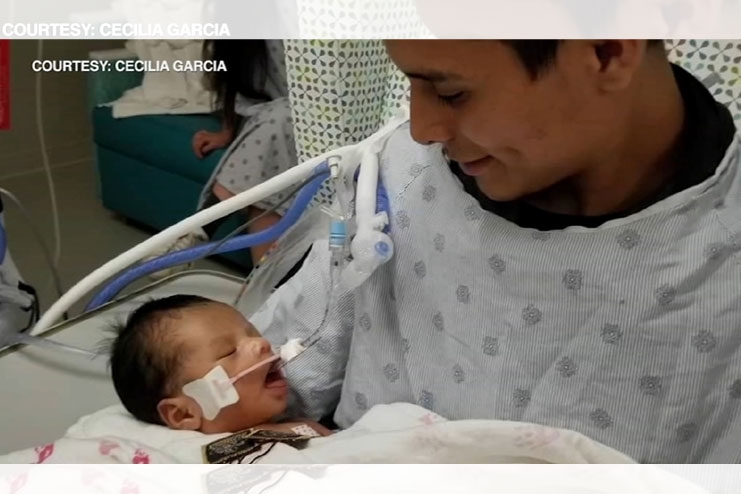 (Image source from: ABC30 Fresno)
The recent news of baby ripped out of its dead mother's womb in Chicago shook the world.

The infant has now opened his eyes for the first time after being in intensive care and fighting all the odds.

Picture of the baby being held by his father Yovani Lopez from the hospital has gone viral on social media. The photo shows the child with many tubes attached to it. While the child has zero brain function, his family is praying for a miracle and will not turn off his ventilator.

Yovani Lopez's 19-year-old wife Marlen Ochoa-Lopez who was nine months pregnant was murdered on April 23 in Chicago.

Marlen had gone to a house after seeing a Facebook ad promising free baby clothing. According to the police, Clarisa Figueroa and Desiree Figueroa strangled Marlen with tubes killing her and then cut the baby out of her womb. Clarisa then pretended that the baby was her own and even took the newborn to the hospital saying that he was not breathing. While the woman showed 'no signs consistent with a woman who had just given birth', she was not arrested.
Baby cut from teen mother's womb in Chicago opens eyes for the first time while being held by dad https://t.co/cGETpJy3sG pic.twitter.com/RK8Bo8yO2p

— Jairo Rodriguez (@RealtorJairo) May 21, 2019

After committing the crime, for the next three weeks, they cleaned the home with the help of Clarisa's boyfriend Bobak. They even set up a GoFundMe account requesting for money to raise the baby. Meanwhile, Yovani has been frantically looking for his wife with the help of the police. The cops finally unfolded the case earlier this week when they reached Clarisa's house over a tip from Marlen's Facebook chat. They found Marlen's body was found in a garbage can in the backyard of Clarisa's house.

Police have arrested and charged three people Clarisa Figueroa, Desiree Figueroa and Piotr Bobak with murder in the case. In custody, Desiree confessed to the crime. It is not known if Bobak or Clarisa have confessed. Yovani Lopez and Marlen Ochoa-Lopez had been married since 2016 and have a toddler son, Joshua.

Yovani has now set up a GoFundMe page to raise money to take care of his sons. He hopes to raise $25,000.

By Sowmya Sangam