10-Year-Old Special Needs Child Brutally Bitten on Arm While Returning Home in School Bus
May 10, 2019 16:19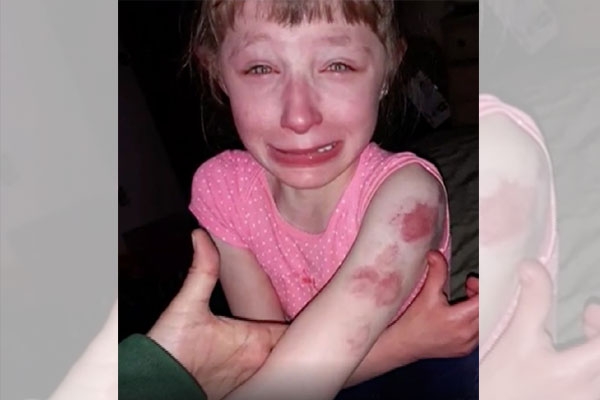 (Image source from: Yahoo News Australia)
A 10-year-old kid with special needs in Wisconsin was bitten gravely by a fellow student.

Lilly's mother Lynn Waldron-Moehle said that her daughter came home from school inconsolably crying. Lynn hoped she would calm down after a bath and she took off her sweatshirt, only to see brutal bite marks on her upper arm.

According to Lilly's parents, CCTV inside the bus showed her falling prey to "gruesome" and "horrifying" attack from a fellow student.

Lilly is non-verbal and developmentally delayed hence only has the mental capacity of a two-year-old. She goes to a school for children with special needs along with other students of similar requirements.

Lynn took to Facebook saying, "My daughter came home from school on a Lamers bus today whining and carrying on holding her arm signing ouchie. She is non-verbal and developmentally delayed. I noticed when I took her coat off that she had a single bite mark on her forearm. Although it looked kinda like she bit herself so I didn't think anything of it. She was very agitated and not calming down so I thought a nice warm bath would help her."

Lynn said that the driver did not pay attentiveness to the incident and kept on going.


Following the incident, school district Superintendent Michelle Langenfeld in a statement said, "Several administrators and myself immediately reached out to the family and met with them to address their concerns and provide support to ensure the physical and emotional well-being of our student. The District is conducting an investigation into the situation and will be working with the bus company to ensure appropriate processes and procedures are in place to prevent this from occurring in the future."
According to reports, the girl responsible for the attack is no longer attending elementary school.
However, Lilly's father said that the situation could have been avoided if adults kept a watch on the kids. Lily is now riding in a van along with two adults to and from school.
By Sowmya Sangam