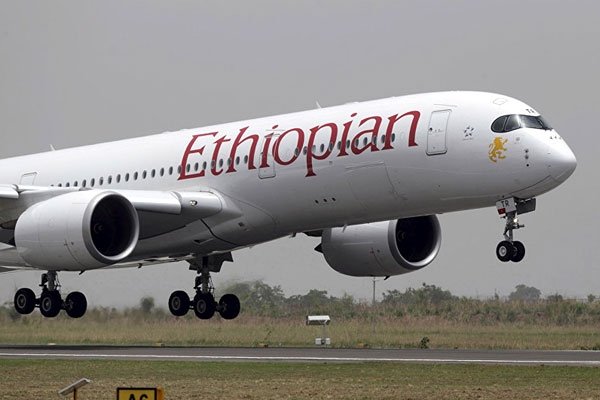 (Image source from: sputniknews.com)
The Nairobi-bound Ethiopian Airlines plane crashed minutes after take-off from Addis Ababa, killing all 157 on board.in which four Indian nationals were also on the plane.
The airline said the plane took off at 8:38 am and "lost contact" six minutes later. The plane went down near Bishoftu, about 56km southeast of Addis Ababa. The cause of the crash was unclear.
"Our deepest condolences to the families of those who lost their loved ones in the crash of #EthiopianAirlines passenger aircraft today. We are informed that four Indian nationals were on the flight. We are in touch with the airlines & local authorities." Indian Embassy in Ethiopia tweeted
EAM Sushma Swaraj tweeted, " I am sorry to know about the unfortunate crash of Ethiopian Airlines plane ET 302. We have lost four Indian nationals in the air crash. I have asked Indian High Commissioner in Ethiopia to provide all help and assistance to the bereaved families."
The Indian Embassy in Ethiopia gave details to the External affairs minister Sushma Swaraj and the names of the crash victims which she tweeted: "deceased Indian nationals are Vaidya Pannagesh Bhaskar, Vaidya Hansin Annagesh, Nukavarapu Manisha and Shikha Garg"
She added, "My colleague Dr Harshvardhan (union minister for environment & forests) has confirmed that Ms Shikha Garg is a consultant with ministry of environment and forests. She was travelling to attend UNEP (United Nations Environment Programme) meeting in Nairobi. I am trying to reach the families of other Indian nationals."
According to the ministry, Shikha Garg was a United Nations Development Programme (UNDP) consultant attached with the Environment Ministry. She was on her way to attend a United Nations Environment Programme (UNEP) meeting.
Flight was carrying passengers from at least 35 countries. The dead included 32 Kenyans, 18 Canadians, nine Ethiopians, eight each from the US, China and Italy, and seven each from France and Britain, the airline said.
By Sai Kumar