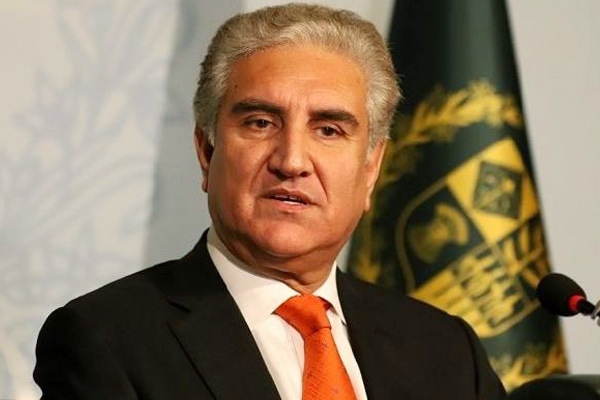 (Image source from: timesnownews.com)
Pakistan Foreign Minister Shah Mahmood Qureshi confirms that Jaish-e-Mohammad chief Masood Azhar is in Pakistan and added that he is "unwell to an extent that he cannot leave his house.

In an interview with CNN's Christiane Amanpour, Qureshi said, "Azhar is in Pakistan. According to my information, he is very unwell. He is unwell to the extent that he can't leave his house, because he's really unwell."
Masood Azhar is the chief of Jaish-e-Mohammad – the organisation that has carried out number of terror attacks on India in the past.
This includes the recent Pulwama attack that killed 40 CRPF personnel.
India has been repeatedly trying to put him on the list of a "global terrorist" at the United Nations Security Council. However, China permanent member blocked all attempts of India.
He also said in the interview that Pakistan will take action against him if presented with "evidence that can stand in a court of law." "If they have solid, inalienable evidence that is acceptable to courts of Pakistan, share it with us so that we can convince the people and we can convince the independent judiciary of Pakistan," the foreign minister said, adding that there is a "need to satisfy the legal process."
During the interaction, Qureshi also added that the release of captured Indian Air Force pilot Abhinandan Varthaman is a "peace gesture" and must be seen as Pakistan's "willingness to de-escalate."
Abhinandan is in Pakistan's custody since Wednesday is likely to be released along Wagah border today.
The United States, United Kingdom and France have now moved a fresh proposal against Azhar.If the proposal is passed in the UN Security council Pakistan based terror group Jaish-e-Mohammed chief Masood Azhar will declared as a global terrorist that will result him to global travel ban, asset freeze and arms embargo.
The similar proposals have been moved in the Security Council in the years 2009, 2016 and 2017 in these all occasions China being a one of the Veto-Wielding Permanent member of UNSC had blocked the proposal.
-Sai Kumar