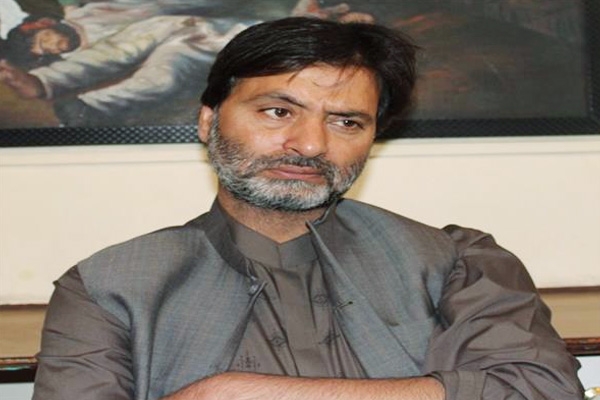 (Image source from: www.knskashmir.com)
Jammu and Kashmir Separatist leader and JKLF chief Yasin Malik has been arrested by police in Srinagar on Friday night.
Reportedly Jammu Kashmir liberation front chief was taken to the Kothibagh Police Station.
According to the reports, army, police and parliamentary forces have been put on high alert after Pulwama terror attack. Officials said it is part of crackdown on separatist leaders.
Earlier this week, J&K administration withdrawn security cover of 18 separatist leaders and state politicians in aftermath of the terror attack.
The arrest happened days after Pulwma terror attack which claimed lives of 40 CRPF soldiers on February 14. 
On arrests of several separatist leaders former chief Minister Mehbooba Mufti said, "In the past 24 hours, Hurriyat leaders & workers of Jamaat organisation have been arrested. Fail to understand such an arbitrary move which will only precipitate matters in J&K. Under what legal grounds are their arrests justified? You can imprison a person but not his ideas."
The ministry of home affairs (MHA) has ordered to move additional deployment of 100 companies of paramilitary forces, which comprise 45 companies of CRPF, 35 from BSF and 10 each from SSB and ITBP.
Ahead of crucial hearing on Article 35-A in Supreme Court which is most likely to take place on Monday, February 25.
-Sai Kumar