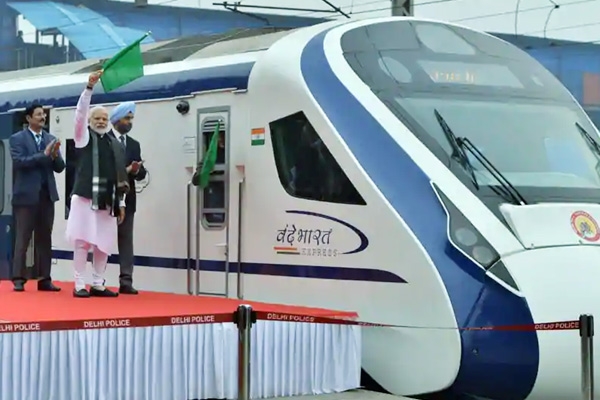 (Image source from: www.hindustantimes.com)
India's Fastest Train,Train18 known as Vande Bharart Express breaks down a day after Prime Minister Narendra Modi Launched in New Delhi.
PM Modi launched Vande Bharat Express yesterday in New Delhi which is set to run between New Delhi and Varanasi.
According to the reports they suggests that Train18 broke down on early this morning at around 18km from Tundla at 6:30 am.
The railway ministry issued a statement: "Vande Bharat Express was standing 18km from Tundla since 6.30 am. There seems to be disruption due to a possible cattle run over, " reported ANI.  
Train was returning from Varanasi to New Delhi when it experienced an issue related to brakes in the train's last coaches.
Train 18, scheduled to reach Delhi, but it started making strange sounds, following which smoke with a foul smell was noticed in the train's last four coaches.
Engineers conducted an inspection and found issues in the breaks of last coaches of train.
However, they resolved issue initially but the vande bharat express encountered the same problem again after some time. The Railway engineers, after consulting with officials, decided to run it at 40 kmph.
Officials most likely to get the train to nearest maintenance shed to resolve the problems.
The train's commercial rum is set to begin from Sunday but now there is uncertainty over the first commercial run of Train 18.
-Sai Kumar