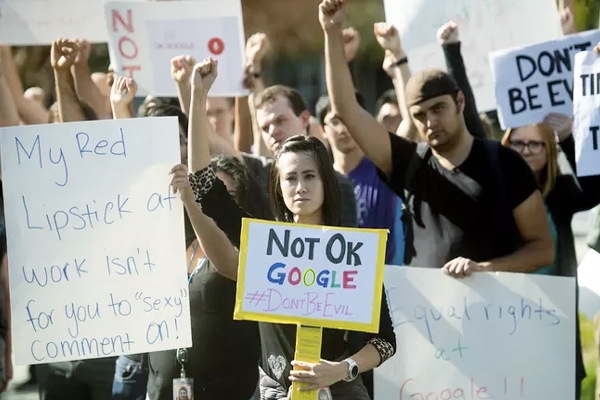 (Image source from: The Guardian)
Google employees at Silicon Valley headquarters, a day after worldwide protests added their voices to calls for major change to company policies on gender pay equity and sexual misconduct.
Chants of "Stand up, fight back" and "Women's rights are worker's rights" echoed through a crowd of several hundred workers who gathered on the eastern edge of the company's vast Mountain View campus around 11 a.m. on Thursday.
Though the "Googleplex" is noted for over-the-top employee perks such as free food, free childcare, and free massages, female employees who spoke in a packed courtyard aired much more key grievances.
One organizer of the California headquarters even shared the story of an anonymous co-worker who said she complained of sexual harassment by a Google vice president, who then kept his job at the company for three more years.
Another employee said she was the victim of what she feared was an attempted sexual assault at an off-site company event.
"The last thing I remembered was a co-worker who asked me to switch drinks with him," she said, drawing boos from the crowd holding signs with phrases such as, "Hey Google, you can't erase us."
The woman said a supervisor later informed her that she had been separated from the co-worker after he attempted to "drag" her out of the event. She then complained to Google human resources, she said.
"The first thing that HR (Human Resource) did was silence me," the woman said through tears. She added that company officials asked for names of co-workers she had told about the incident and was forced to continue working with the alleged harasser. "Did anything change?" she asked. "No."
The worldwide walkout on Thursday which saw mass demonstrations by Google staff in Asia, Europe, and the United States took place less than 24 hours after a small group of employee organizers proclaimed the protest on social media and released a list of demands.
Related content: Google Faces Internal Backlash over Poor Handling of Sexual Misconduct
Last April, after the U.S. Department of Labor, filed a lawsuit seeking data on gender pay disparities, the agency concluded that Google fostered "systemic" inequity.
By early this year, tons of female employees in positions ranging from engineers to on-site preschool teachers joined a class action lawsuit over the alleged pay gap.
Up to now, however, Google and parent company Alphabet have pushed back on allegations of inaction on harassment and rejected the notion of a pay gap.
Among the slogans written on protester signs as employees marched through an on-site urban garden and past a mobile salon offering free haircuts on Thursday was, "Happy to quit for $90 million. No sexual harassment required."
Though concerns over sexual harassment and unequal pay are not unique to Google or the tech industry, civil rights lawyers in Silicon Valley said they hadn't seen walkouts like this before. Still, it's unclear whether Google leadership is taking this seriously, said Therese Lawless, an attorney behind prominent tech industry discrimination cases.
For Tanya Gupta, a Google employee who spoke at the protest Thursday, the event marked an important next step in airing allegations of misconduct. Organizers welcomed speakers who read their own allegations and others who spoke on behalf of people who asked not to be identified for the sake of their mental health, temporary immigration status, fear of retaliation or other concerns.
"I'm impressed by the number of people that came out and shared their stories," Gupta said. "I'm hoping that it brings about a lot of change."
-Sowmya Sangam