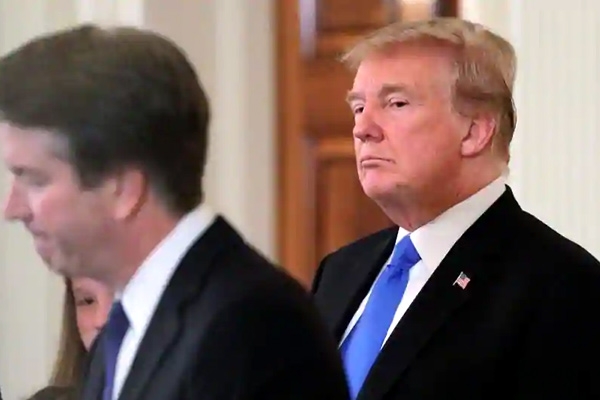 (Image source from: Hindustan Times)
The United States President Donald Trump has defended his Supreme Court nominee Brett Kavanaugh, whose confirmation has been imperiled by accusations of sexual assault.
"Justice Kavanaugh has been treated very, very tough, and his family. I think it's a very unfair thing what's going on," Trump told reporters on Tuesday.
A university professor Kavanaugh's accuser has said she was assaulted at a party 36 years ago when both were high school students. She was 15 then and Kavanaugh was 17.
The hearing has been processed by Republicans, who control the Senate and Kavanaugh's confirmation process, for the professor and Trump's nominee and scheduled on Monday.
However, the prof has demanded a Federal Bureau of Investigation (FBI) inquiry into her allegations before she testifies, changing her earlier offer to testify.
"An FBI investigation of the incident should be the first step in addressing her allegations," the professor's attorney, Debra Katz, said in a letter to Chuck Grassley, the Republican senator who heads the senate judiciary committee.
Related content: Brett Kavanaugh Denies Sexual Misconduct Allegation
Katz as well wrote that since the professor went open with her accusations, she has been a "target of vicious harassment and even death threats. As a result of these kinds of threats, her family was forced to relocate out of their home".
The professor's demand for an FBI inquiry before her testimony echoes a demand by the Democrats, who have also opposed the Monday hearing. They argue the allegations must be investigated so that the committee members have the full facts before they consider the accusations and Kavanaugh's denials.
But Republicans, even those who had argued for the confirmation process to be slowed down to hear the accuser, are saying that if she does not testify on Monday, the procedure should be advanced to the next stage - a ballot of the committee and then the full Senate chamber.
By Sowmya Sangam