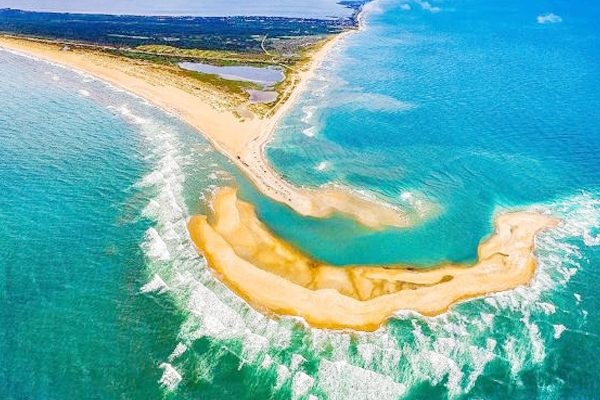 An island has been formed out of nowhere in April near North Carolina's Outer Banks, an absolute land mass poking through the surf, a brand new Atlantic Ocean island.
The island, which is off the coast of Cape Point near the Cape Hatteras Lighthouse, is a mile long and three football fields wide
The island is drawing tourists from near and far, Dave Hallac, superintendent of the Cape Hatteras National Seashore said. He warned people as they should not try to walk or swim across the water that separates the island from the coast.
Hallac said a rip current about 50 yards wide rushes between the point and the island.
"It's unusually large compared to what we've been seeing in recent decades," he said. "But if you put this in geological perspective, it's nothing really," he added.
The president of the North Carolina Beach Buggy Association,  Bill Smith said: "There could be large fishing hooks at the bottom and there have been reports of large sharks and stingrays in the area."
"It's a hoss," says Danny Couch, 57, a local historian, tour guide and lifelong resident of nearby Hatteras Island. "Every 10 to 15 years we'll get something that's pretty dramatic. But this one is the largest one I've seen in my lifetime."
When people started noticing the formation of the new island, seeing the sandy ground rising through the water across the turf from Cape Point, authorities did not pay much attention, says Mark Dowdle, who is the deputy superintendent of Cape Hatteras.
"It's just part of the natural process," Dowdle says. "I've seen parts of the Outer Banks erode for months, only to then fill back in again."
AMandeep