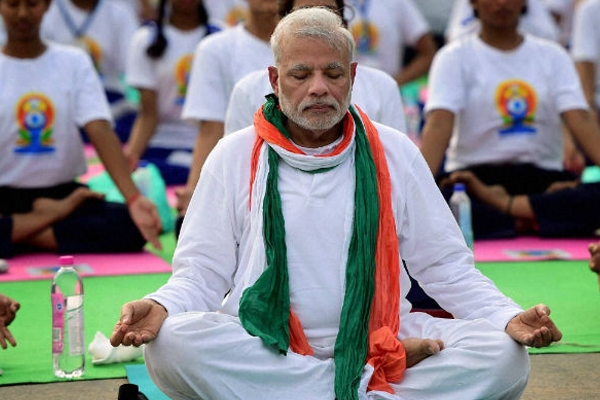 To mark the International Yoga Day, Indian Prime Minister Narendra Modi leads the Yoga event with UP Chief Minister Yogi Adityanath in Lucknow Ambedkar Sabha Sthal.
In his speech, PM Modi said "I am happy to see so many Yoga institutes being opened over the last three years. Demand for Yoga teachers is increasing."
"I welcome all yoga lovers present here and those performing yoga in various corners of the world. Today, yoga has become a part of so many lives. Yoga's popularity out of India is high and it has connected the world with India," PM Modi said.
For about 20 minutes, PM Modi performed yoga asanas in the rain leading thousands of people in celebrating Yoga Day.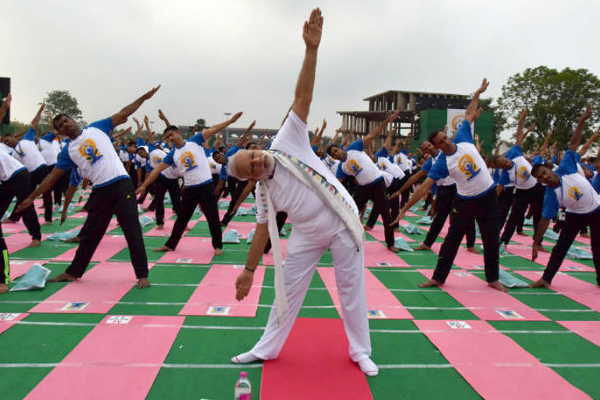 In the city of Ahmedabad, where yoga guru Ramdev and BJP chief Amit Shah led celebrations, nearly 500,000 people turned up to do yoga at 5.30 AM setting up a Guinness World Record
In 2015, PM Modi persuaded the UN to declare Yoga as an international festival. From its inception, the Yoga day has been celebrated throughout the world and this year events are being held in 180 countries.
PM Modi, participated in the 2015 Yoga day in Delhi and in Chandigarh in 2016 has appealed to three generations of families to perform yoga and post a picture online.
Union ministers Venkaiah Naidu and Vijay Goel, Delhi Lieutenant Governor Anil Baijal, Chief Minister Arvind Kejriwal and the BJP's presidential nominee, Ram Nath Kovind, joined the celebrations in Delhi's Connaught Place.
In Ladakh, jawans of the Indo-Tibetan Border Police performed a yoga session at 18,000 feet and a temperature of minus 25 degrees Celsius.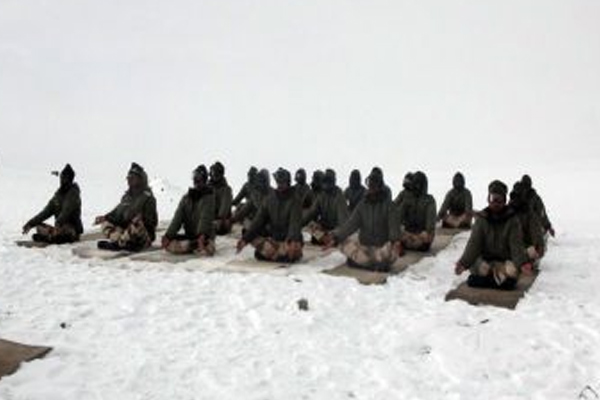 Indian Navy officers held yoga events on board the aircraft carrier INS Vikramaditya and at the naval dockyard in Mumbai.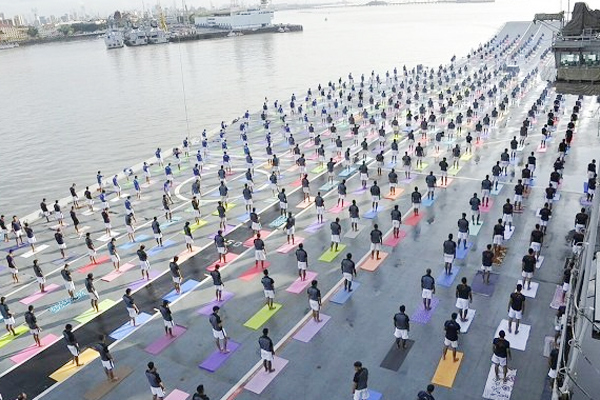 Also the on board officers of INS Jalashwa & INS Kirch in the Bay of Bengal celebrated the Yoga Day.
In 2016, more than 200 million people were estimated to have participated in the event, a figure the Indian government hopes to beat this year.
Countries like China, US, and UK, have scheduled events through the week. The UN headquarters in New York has been lit up with images of yoga postures.
AMandeep