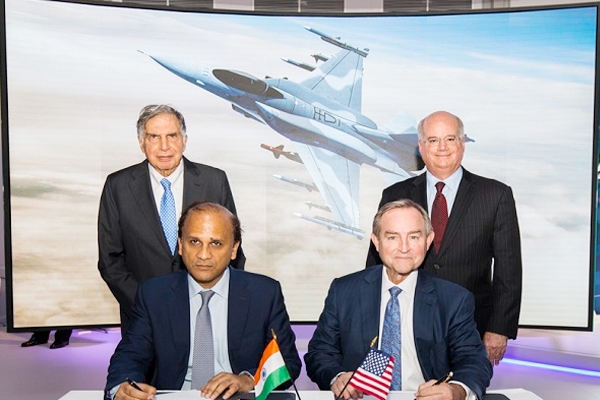 American global aerospace company Lockheed Martin and India's Tata group have signed an agreement to jointly build the F-16 Block fighter jets in India, pressing ahead with a plan to build a plant in India to receive billions of dollars worth of order from the Indian defense ministry.
The Indian Air Force (IAF) require hundreds of new fighter jets to replace its Soviet-era fleet, but Indian PM Narendra Modi's government has cleared that foreign suppliers must have to make the air crafts in India with a local partner to help build a domestic industrial base and cut outright imports.
However, Prime Minister Modi's 'Make in India' drives the conflicting President Donald Trump's America First campaign under which he keeps pressing for companies to invest and create jobs in the United States instead of setting up new factories abroad.
While announcing their agreement at the Paris Airshow, Lockheed and Tata stated that moving the production to India would still retain jobs in the US.
A joint statement from the firms said: "F-16 production in India supports thousands of Lockheed Martin and F-16 supplier jobs in the US, creates new manufacturing jobs in India, and positions Indian industry at the center of the most extensive fighter aircraft supply ecosystem in the world."
The agreement has been signed days before PM Modi travels to the White House for a first meeting with Donald Trump on June 26.
In the recent years, India and the US have built a close defense relationship, with the US emerging among the top three weapons suppliers to India, along with Russia and Israel.
The statement also said that India will have the chance to export the F-16 that is flown by air forces around the world.
Currently, about 3,200 of F16s are being flown by 26 nations around the world and the Block 70, which is being offered to India is the most modern of all the F-16s.
Swedish defense company, Saab is the other contender to supply the Indian Air Force, offering to build its Gripen fighter jets in India. The company has not yet announced a local partner for the fighter jets, which it has pitched as a modern alternative for F-16 air crafts.
AMandeep