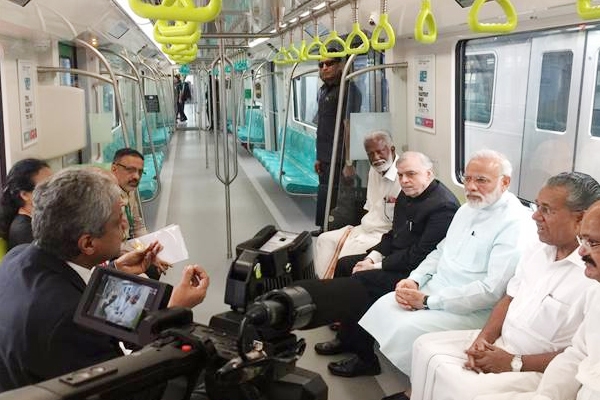 Indian Prime Minister Narendra Modi along with Kerala Chief Minister Pinarayi Vijayan and "Metro Man" E Sreedharan inaugurated the Kochi metro service on Saturday.
Addressing the crowd in Kochi, PM Modi said that he dedicates the metro services to the people of the city. He also said that with the rising population of the city people will find Metro services very helpful.
He added that Kochi Metro coaches signifies the Make in India vision. He described Kochi as the "queen of Arabian Sea," and said that the city has become the capital hub of Kerala over the years.
The Metro is scheduled to start commercial operation from June 19th 06:00 AM onward. Trains will begin operations simultaneously from Aluva and Pakarivattom station at 6 AM. The last ride will end at 10:00 PM at Aluva. As many as 219 trips are scheduled for Monday.
The Metro also have many firsts of India. It is the metro in the country to extensively use solar panels. About 22 stations on the final 25 kilometer stretch of the line will have solar panels. The metro plans to meet 25% of its electricity from solar power.
It is also be the country's first government agency to hire transgender people; 23 are expected to be on duty from Monday.
In another likely first, the metro network will use compost generated from municipal waste to fertilize the vertical garden it plans to maintain on some of its pillars.
The metro officials said on Friday that the new rail network will increase regional connectivity for residents in the Greater Kochi metro area.
"I think the Metro adds yet another feather in Kochi's cap," said Ajithalekshmi an employee of HDFC Bank, to reporters on Friday.
Narendra Modi inaugurates Dhola Sadiya Bridge
AMandeep