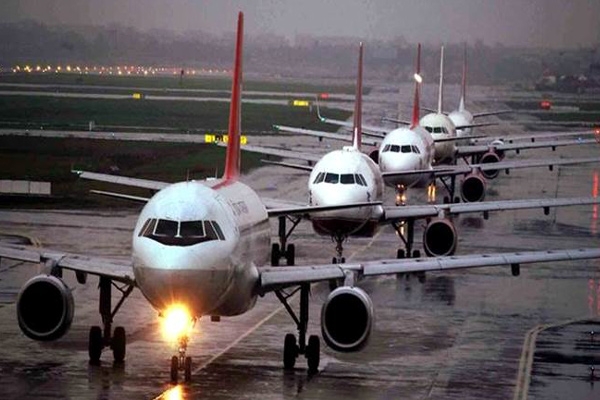 To increase the level of security at airports across India, the civil aviation ministry is pushing for Aadhaar-enabled entry in all the airports across the country. Currently, passengers have to show their printed or mobile air tickets along with their government identity cards to enter an airport.
According to a Livemint report, Hyderabad's Rajiv Gandhi International Airport and Kempegowda International Airport, Bengaluru, which have already surpassed the capacity they were built for, are using Aadhaar-based entry in coordination with the airlines through "e-boarding." Both the airports are using the manual procedures as a back-up option.
At the Rajiv Gandhi International Airport (RGI), most domestic flights use e-boarding, with at least 150 flights using the technology.
A spokesperson for the RGI Airport said that "the e-boarding has improved passenger throughput outcome at the boarding gate by 30% and performance of the security frisking area by 20%.
The improvement is due to the replacement of a single-lane manual scan channel with the two lane automated e-gate and automatic scan of the boarding pass has improved time over manual reading.
The Indian government wants its airports similar to the marquee airports such as Schiphol (Amsterdam), Brisbane and Hamad (Doha), where passengers can enter without flashing their identity cards and clear the check-in process through fingerprint and iris scan.
The process is being described as "seamless."
"The passenger comes pre-checked in with either the paper-printed boarding pass or e-mobile pass. At the Aadhaar boarding kiosk, he/she scans the boarding pass. If the Aadhaar is already entered at the time of booking, the passenger waves hand to complete the authentication / registration process. If the number is not entered, it could be done manually before the hand is waved."
A spokesperson for the Kempegowda International Airport said: "Traditionally, as passenger numbers grow, the various security checkpoints are increased. With biometric entry, we are creating a quicker throughput of passenger flow and enhancing experience."
In case of Aadhaar not available, the passenger says that and waves his/her hand. Then the passenger can show their alternate identity card to the to the Central Industrial Security Force staff.
Apart from these two airports, Baroda and Vijayawada airports are soon likely to use this technology.
The government has asked Wipro to build a platform which will use passenger's Aadhaar information for checking-in at all airports. Officials said that the idea is to cut down on the time passengers spend standing in queues.
Jayant Sinha, minister of state for civil aviation, said last week that the ministry has set up a working group for DigiYatra, a plan to introduce a paper-less process which could be rolled out in a few months. "Your payment is digital, your boarding and security interactions are digital... That is the DigiYatra concept we are working on. We have a working group established and we are very hopeful of rolling out some of these in the next few months," Sinha said.
According to reports released by the International Air Transport Association last month, India jumped four spots in global air traffic rankings.
"India has jumped...to #4 ranking with 131 million departures in 2016 and with stellar growth of 20.0% year on year, continues to close in fast on Japan," the Association said in a statement.
Mumbai, Delhi, Bengaluru, Hyderabad, Chennai, Goa, Lucknow and Kozhikode are among the worst-hit airports with India's air traffic, touching nearly 100 million air passengers in 2016, growing in double digits.
A civil aviation ministry official reportedly said, "Linking Aadhaar numbers to air ticket bookings is certainly an option but the ministry will not make it mandatory for booking air tickets; we cannot do it. We can ask airport operators and airlines to inform passengers about its benefits, but it cannot be enforced now, according to Supreme Court guidelines." Airline companies have also asked the ministry to make Aadhaar compulsory for booking tickets.
AMandeep