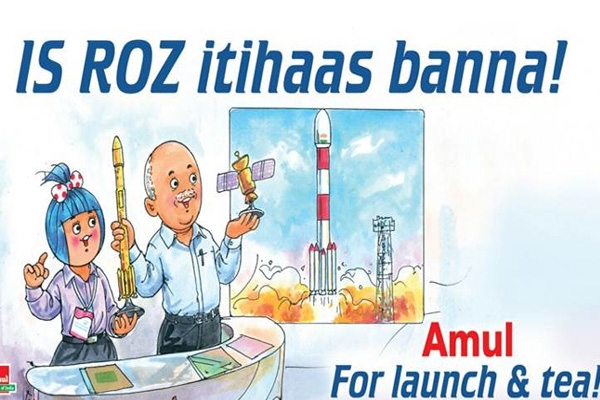 The Indian Space Research Organization (ISRO) reached into a new level after it launched a record 104 satellites, including the country's earth observation satellite, on a single go from the spaceport in Sriharikota, Andhra Pradesh.
The amazing achievement was recognized and applauded by the whole world as IRSO crossed another path in its low-cost space-exploration program. ISRO overtook the previous record of 37 satellites launched by Russia in 2014.
Media around the world along with different scientific organizations have been praising ISRO. The Indian organization is rapidly gaining a reputation globally for its remarkably efficient missions.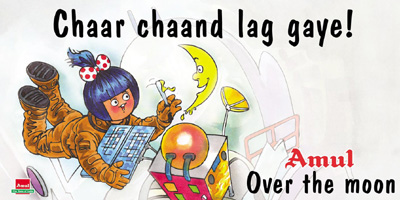 Amul is famous of its illustrations and how can we expect it to stay behind and not celebrate the country's historic achievement. The recent advertisement by the company reads, "IS ROZ itihaas banna!" with its amazing tagline, "Amul for launch & tea!"
The advertisement has hit the right chords celebrating the historic launch. An array of innovations put together by organization's scientists. The launch was Crucial as the rocket was carrying almost three times the number of satellites launched in a single mission ever, as the numbers always remained in thirtys.
Russia's Dnepr carried 37 payloads back in 2014. Same year in January, the United States Company Orbital Sciences Corporation's Antares flew with 34 satellites; the Dnepr had carried 32 payloads in November 2013. On June 20th 2016, ISRO's PSLV-C34 launched 20 satellites.
#Amul Topical: 104 satellites deployed together! pic.twitter.com/JqrrvKUl9y

— Amul.coop (@Amul_Coop) February 16, 2017
Vikas Kumar's Utasv auctioned for millions from Modi to Pope check the list who owns a copy
AMandeep