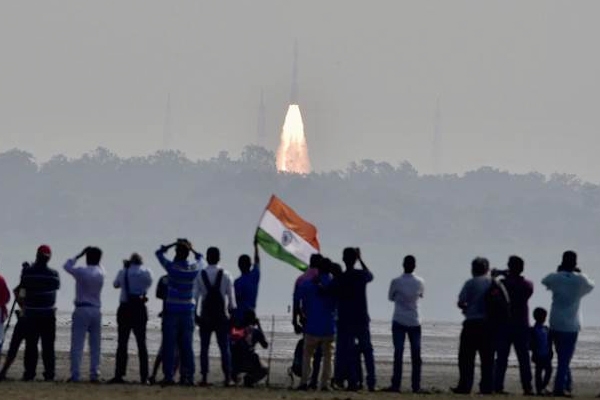 The Indian Space Research Organization (ISRO) has created a record in the world of space mission achievements, after it successfully launched 104 satellites in one go today from the Satish Dhawan Space Centre in Sriharikota, Andhra Pradesh.
For the year 2017 the launch was ISRO's first space mission, and the most complicated mission the organization has ever carried out. PM Narendra Modi and the President  Pranab Mukherjee congratulated the space organization of the proud event and significant boost to the country's space program.
The space agency began the countdown for the launch of the Polar Satellite Launch Vehicle (PSLV)'s 39th flight on Tuesday (14th February) after the Mission Readiness Review committee and Launch Authorisation Board gave its approval for lift off, ISRO said.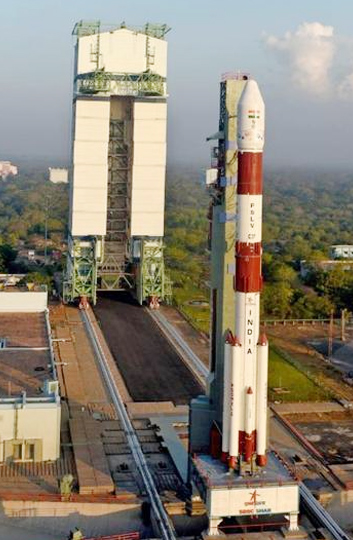 The PSLV-C37/Cartosat2 Series satellite mission included the primary satellite (Cartosat-2) and 101 international nano satellites. It also launched two of its own nano satellites, INS-1A and INS-1B.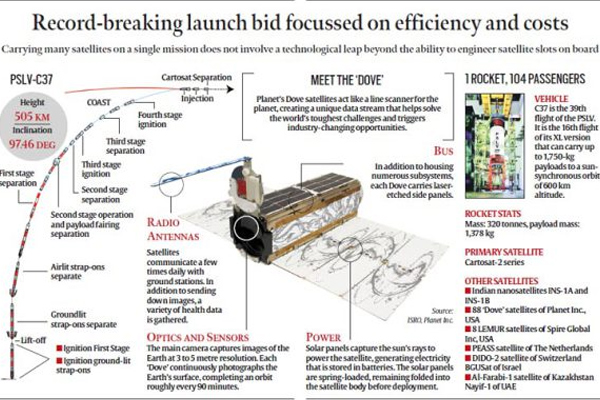 PSLV first launched the 714 kg Cartosat-2 Series satellite for earth observation, followed by the INS-1A and INS-1B, after it reached the polar Sun Synchronous Orbit. It then went on to inject 103 co-passenger satellites, together weighing about 664 kg, in pairs.
ISRO scientists used the XL Variant – the most powerful rocket – earlier used in the ambitious Chandrayaan and during the Mars Orbiter Mission (MOM).
Update on the launch
At 10:25am: the director Sadananda Rao of Satellite said solar panels of the Cartosat-2 satellite were deployed, and the command center in Bengaluru has taken control of it
At 10:13am: President Pranab Mukherjee congratulates ISRO on its success of setting a new record of most satellites launched into space in one go
At 10:10am: First mission this year has been a success; getting ready for future missions, including PSLV and GSLV, says ISRO
At 10:05am: Countdown time was the shortest launch time for PSLV missions. This was the most complicated space mission, says ISRO
At 10:04am: ISRO chairman AS Kiran Kumar says Prime Minister Narendra Modi conveyed his congratulations
At 10:03am: "This was a very enjoyable mission. I congratulate the team. We faced many challenges before we accomplished this mission," Kumar says
At 10:02am: Our team came up with a unique separation system, says Kumar
At 10:01am: ISRO chariman AS Kiran Kumar announces success
At 10am: All 104 satellites successfully launched; India makes history
At 9:57am: Close to half an hour since lift off; flight status normal
At 9:50am: Plus 22 minutes since lift off; launch normal so far
At 9:48am: Remaining nano satellites being separated from the launch vehicle in pairs
At 9:47am: Cartosat 2 and India's nano satellites separated from the launch vehicle
At 9:46am: Engines switched off; PSLV reaches orbit
At 9:44am: ISRO chairman AS Kiran Kumar among those at the Satish Dhawan Space Centre in Sriharikota watching the record satellite launch
At 9:41am: PSLV has crossed about 4180 km since it launched
At 9:39am: Satellite continues to gain altitude; performance so far normal, indicating a successful launch
At 9:36am: Eight minutes from lift off; PSLV-C37/Cartosat2 Series satellite in fourth stage. Satellite engines switched on
At 9:33am: Second stage of launch completed successfully; third stage begins
At 9:32am: Scientists at ISRO says launch going as per plan so far
At 9:31am: Heat shields separated from the PSLV; second stage going through smoothly
At 9:30am: Scientists confirm the first stage of the lift off completed
At 9:28am: PSLV takes off at the Satish Dhawan Space Centre in Sriharikota
AMandeep