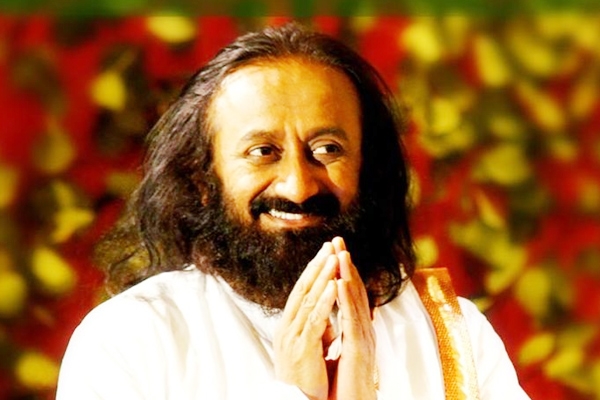 Sri Sri Ravi Shankar tells No country can be great if even a small minority in the country feels neglected.
In an interview Sri Sri were asked about the constant tirade against United States President Donald Trump in the media worldwide.
He said as a doctor and a guru, he only gives personal advices, whatever advices he may give will always be very personal advice.
According to Sri Sri any head of state cannot be bullied by the press, nor can he ignore the voice of the media. The Public often criticizes a revolutionary idea, he said. But at the same time one needs to respect the sentiments of the public as well.
It is a tough job for a head of the state, that to someone who is new to the system Sri Sri Said.
He said any head of the state cannot always have people who only yes around him, he must have honest advisors and he must also keep disruptive people in his team because they can see the point from a different perspective.
Donald Trump should include the dissenters among his advisors to account counterparts as well.
On India-US Relationship Sri Sri said India and USA can naturally be good partners as one is the largest democracy and one is the oldest and the relation between two countries needs to be strengthened by easing many regulations.
Sri Sri did not comment on the Trump's immigration ban on seven countries since a federal judge has already ruled on that. But he said there is a quota system to grant visas for all the countries like India, Pakistan, Sri Lanka and so on but all the quotas are same.  He said the quota system needs some rethinking and should be decided on merit and the population.
On Approach to the arms business Sri Sri said he is always for disarmament for each and every country in the world, he suggested that countries should spend at least a fraction about 1 to 2 percent of defense spending on peace education. Today, the United States needs peace education very badly.
American universities move to allay International Students
He said depression is taking over the United States. While economic interests need to be considered along with the happiness index of the country.
Sri Sri's organization "The Art of Living" has a project called 'Welcome Home Troops, he said. The project has trained and rehabilitated over 1,500 troops returned home from the Iraq war via Association for Human Values.
The organization also made a movie 'Almost Sunrise', which is a story about a war veteran soldier post war and how he transformed after 'Art of Living Programs.
Sri Sri was sure about that President Trump will take positive steps to deal with country's infrastructure which took a big beating in the recent past.
On concerns about Donald Trump's policies Sri Sri recommended Trump to pay heed to the words of Gorakhnath: "Speak not in haste (without understanding), walk not in haste (without knowing the path). Take slow cautious steps (in the path of yoga). Let not pride overtake you. Lead a simple life (free of passions), says Goraknath."
Sri Sri said Fears are unfounded because any head of the state will always think and care for the whole population, sometimes the idea may not percolate into the ground
Tranquility of mind is absolutely essential for making decisions that would bring long-term happiness to people. Sri Sri said that he would ask Trump to take a few moments before taking decisions; please set apart an introspective moment of silence.
AMandeep