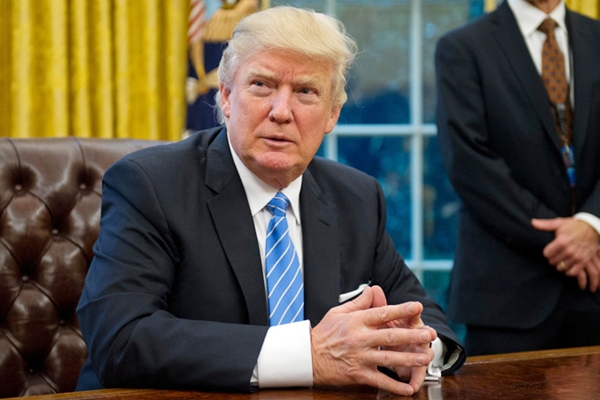 On Wednesday, 25th January, 2017, President Donald Trump, aggressively moved to tighten the nation's immigration controls, by signing executive actions to construction of a U.S.-Mexico border wall and block federal grants from immigrant-proctecting "sanctuary cities."
Trump declared during a visit to Department of Homeland Security, "Beginning today the United States of America gets back control of its borders. We are going to save lives on both sides of the border."
Donald Trump, casts his actions as fulfillment of a campaign pledge, to enact hard-line on immigration measures, including the construction of a wall paid for by Mexico."When it comes to public safety, there is no place for politics," trump said, with the families of Americans, killed by people living in the U.S.
Trump has repeatedly promised that, Mexico will pay for the construction of the wall. Taxpayers in U.S. are expected to cover the initial costs, new administration has said nothing, about how it will compel Mexico to reimburse.
Despite calls from some lawmakers to cancel the visit, Mexican President Enrique Pena Nieto, who has insisted his country will not pay for a wall, is expected to meet Trump at White House.
Many times, Trump has insisted, the border structure will be a wall. Trump signed the order, which referred to "a contiguous, physical wall or other similarly secure, contiguous and impassable physical barrier."
Some immigrants caught while crossing the illegally, and are released and given notices to report back to immigration officials at a later date.
Trump is expected to sign orders restricting the flow of refugees into the United States, later in a week. According to a source from a public policy organization, that monitors refugees issues, his current proposal includes at least a four-month halt on all refugee admissions, as well as a temporary ban on people coming from some Muslim-majority countries.
Indian-Americans feels Confident on Indo-US ties
Trump campaigned, on the pledges that, to tighten U.S. immigration policies, including strengthening border security and stemming the flow of refugees. His call for construction of a wall, was one among his most popular proposals.
Trump controversially called for halting entry to U.S. from Muslim countries, in response to terrorism concerns. The president is relying on 2006 law, to build the wall. Trump administration, must adhere to old border treaty with Mexico, that limits where and how structures can be built.
Trump's order, crack down on sanctuary cities locals, that do not cooperate with immigration authorities, and could cost individual jurisdictions with millions of dollars.
As it appeared, though the refugee restrictions were still to be finalized, the person briefed on the said proposals, included a ban on entry to the U.S. for at least 30 days, from countries including Iran, Iraq, Libya, Somalia, Sudan and Yemen.
Likely, there is also to be an exception for those fleeing religious persecution, if their religion is a minority in their country. That exception could cover the Christians fleeing Muslim-majority nations.
Donald Trump, as a President, can use an executive order to halt refugee processing. After Sept.11 attacks, Bush used the same power as an immediate action.
By Mrudula.