An explosion in fireworks market outside the Mexican capital on Tuesday killed 27 people and 70 were injured. About 20 miles north from Mexico City, the technicolor explosion was the third to strike San Pablito marketplace in Tultepec, in just over a decade.
The Image shows a flurry of pyrotechnics exploding into the sky, as a massive plume of smoke rose above the market.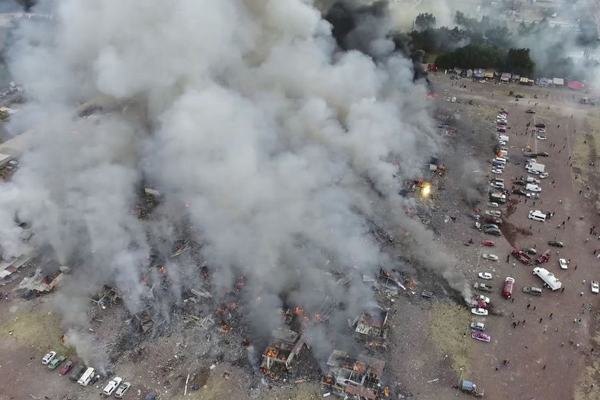 "We were near the bathrooms, when there was an explosion at a stall and then a series of blasts came one after the other," said witness Federico Juarez. "Everyone started running to escape as bricks and pieces of concrete fell everywhere."
Head of Tultepec emergency services, Isidro Sanchez said that the death toll of 27 was preliminary as rescue workers searched the site. A lot of Negligence and security had likely caused the Blast, he added.
IS Claims Berlin Truck Rampage
Federal police has sent a forensic team to investigate the incident, stating at least 70 people were injured. Video footage from scene revealed charred stalls and destroyed buildings.
There were 300 tonnes of fireworks in the market at the time of Explosion according to local media.  
The Governor of State of Mexico, Eruviel Avila said 13 children suffered burns to over 90% of their bodies. They were soon to be sent to the US city of Galveston for treatment and he pledged to provide economic assistance who had lost their livelihoods.
In 2005 September, just before Independence day celebrations. An explosion struck the Tultepec fireworks market, injuring many people. Almost a year later, another blast gutted the same area again.
"I offer my condolences to the relatives of those who lost their lives in this accident and my wishes for a speedy recovery for the injured," - President Enrique Pena Nieto.
Russian ambassador to Turkey shot dead in Ankara!
By AMandeep