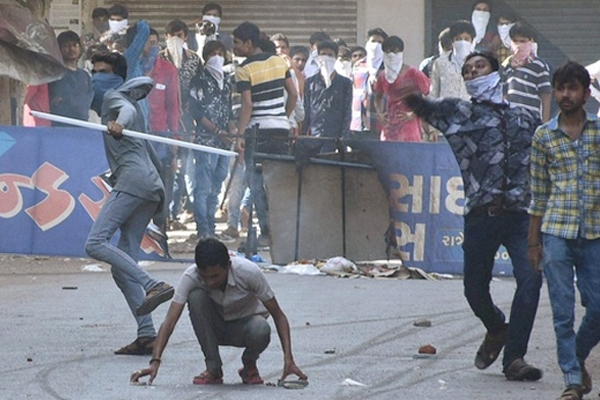 The Jail Bharo Andolan call given by the Sardar Patel Group (SPG) led by Lalji Patel, seeking reservation for the community and immediate release of their jailed leaders, including Hardik Patel has turned violent and clashed with the police. Another prominent group fighting for reservations for Patidars, the Patidar Anamat Andolan Samiti (PAAS), had supported the Andolan.
Police claimed that they resorted to lathicharge only after some persons started throwing stones at the police vehicles, Lalji Patel of Sardar Patel Group alleged that Patel agitators were targeted without any provocation.
Curfew was imposed in Mehsana town of Gujarat and mobile Internet services suspended in Ahmedabad, Mehsana, Surat and Rajkot. Union Home Minister Rajnath Singh called up Chief Minister Anandiben Patel to take stock of the situation.
Chief secretary Ganga Ram Aloria said that 161 companies of the CRPF and the SRP are being deployed across the state to ensure peace. Apart from these, 10 companies of paramilitary forces stands on guard in sensitive towns that have been prone to violence, including a few towns in Saurashtra and North Gujarat. Four Rapid Action Force (RAF) companies are being deployed in Gujarat's main towns — two in Ahmedabad and one each in Surat and Mehsana.
Hitting out at the government, Congress Legislature Party leader Shankarsinh Vaghela said, "If the government wants to establish peace, it should voluntarily withdraw cases of sedition."
BJP accused Congress of stoking the Patidar unrest, while the opposition party blamed "inept handling" of the quota issue by the government.
Cabinet minister and government spokesperson Nitin Patel said that the administration had made necessary arrangements to ensure the protest to be remained peaceful, but some "obstructive and miscreant elements" vitiated the atmosphere. Patel said that the state government and the Mehsana district administration officials had held a meeting with office-bearers of the Sardar Patel Group and they had agreed to wrap up the protest in a peaceful manner.
"Violence has never been, and will not be the solution to any problem. I urge my fellow citizens of Gujarat to maintain peace. Gujarat government has formed a committee of 7 ministers, which is making persistent efforts to resolve the issue amicably," Anandiben said in a tweet.
By Premji