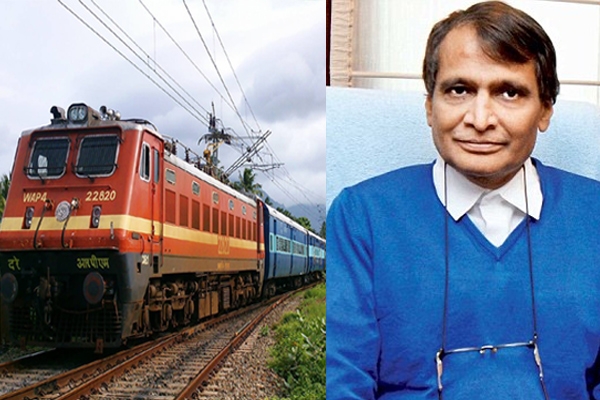 (Image source from: Growth oriented Indian Railway budget presented})
The Railway Budget 2016 was presented by Union Minister Suresh Prabhu in Lok Sabha. This is his second Rail Budget since taking charge of the ministry. The Union Railway Budget 2016-17 is focused on the capacity creation in the rail sector, with an increased outlay of about Rs. 1.21 lakh crore and on completion of the ongoing projects rather than announcing new ones.
Highlights of the railway budget:
1.    No changes in passenger fares and freight rates in Railway Budget for 2016-17.
2.    Children's menu, baby foods, baby boards to be made available for travelling mothers.
3.    400 stations to be re-developed through PPP.
4.    400 railway stations to be equipped with wifi, 100 this year.
5.    Porters to not be called "coolies" but be called "sahayaks"; will be trained in soft skills.
6.    Increase in lower berth quota for senior citizens by 50 per cent.
7.    33 pc reservation to women in reserved quota in Railways.
8.    Special focus on exploring advertisement potential.
9.    Indian Railways will generate employment for 9 crore man days in 2017-18 and 14 crore in 2018-19.
10.    Railway safety record is better this year than previous years but much more needs to be done.
11.    17 states agree to form JVs with Indian Railways for construction of rail-over-bridges.
12.    Bar-coded tickets to be introduced at select stations on pilot basis.
13.    Railways to monetise land on tracks by leasing out for horticulture and tea plantation.
14.    Logistics and warehouse parks to be created on PPP mode.
15.    India's first railway auto hub in Chennai to be inaugurated soon.
16.    Station development and re-development, monetisation of land to raise rail revenue from non-freight sources.
Overall, the budget can be considered as a growth oriented and foresighted, without burdening the customers. Unlike previous government's railway budget, there is no popular decision which was never fulfilled.
By Premji