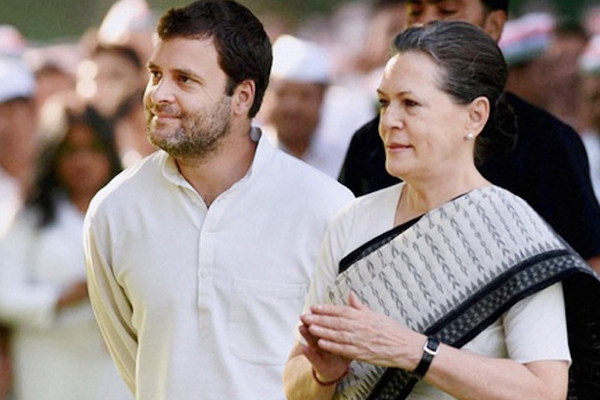 (Image source from: })
Unrelenting Opposition Congress Members trooped into the Well and rented the air with slogans against "vendetta politics" of the BJP Government, for an order which has dismissed the appeal by Sonia and Rahul in a cheating and misappropriation cases filed against them by Dr. Subramamniam Swamy. It is for the first time that a political party disrupting the parliament for an order by the judiciary against the leadership of the party who are accused for cheating and misappropriation.
Noisy protests by Opposition Congress over the alleged politics of vendetta marred business in Lok Sabha for the second consecutive day. Congress vice-president Rahul Gandhi has reiterated his charge that the National Herald case is "political vendetta." Parliamentary affairs minister M Venkaiah Naidu charged that Congress is using Parliament to threaten judiciary (by disruption).
Congress launched a vociferous protest in both Lok Sabha and Rajya Sabha accusing the government of unleashing political vendetta on members of the Opposition. Raising slogans of "Dictatorship nahi chalegi" the parliamentarians of Congress stormed into the well of the House forcing the Speaker to adjourn the proceedings.
BJP MP Rajiv Pratap Rudy said, "If judiciary takes a decision, takes a matter into cognizance, how is House responsible for that?"
"Subramanian Swamy is a BJP leader and he is the petitioner. There is no complaint of cheating and fraud by any of the parties (related to the case) involved. This shows that the case is based on political vendetta," said Congress MP Anand Sharma, referring to the charges leveled against Rahul and Sonia Gandhi in connection to the National Herald case.
"Everything is before the court, Government has no role whatsoever remotely in the entire process," said BJP leader Ravi Shankar Prasad describing the allegations made by the Congress 'baseless' and amounts to contempt of court.
The protest and mobbing of the Well came against the backdrop of the rejection of petition filed by Congress leaders Sonia Gandhi and Rahul Gandhi in the Delhi High Court against the lower court's summons in the National Herald and some other controversial issues.
The protesting Members shouted, vendetta politics bandh karo; badle ki rajniti bandh karo (stop politics of vendetta) which is apparently hinting that they are protesting against filing of case against their leaders Sonia Gandhi and Rahul Gandhi in the matter of National Herald. This continued even after Question Hour.
By Premji