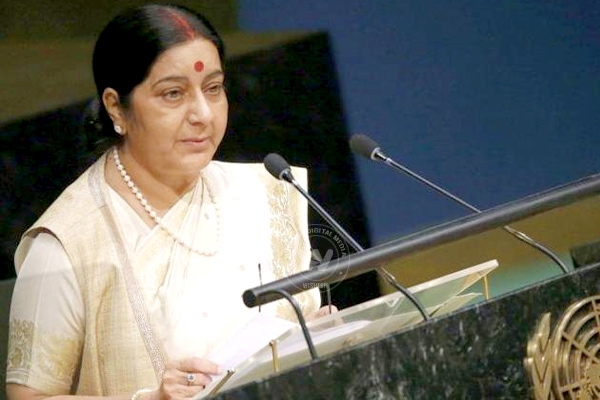 (Image source from: })
Four-point peace proposal from Nawaz Sharif, Pakistan Prime Minister, was rejected by Sushma Swaraj, External Affairs Minister of India. India told the U.N. General Assembly (UNGA) that Pak must "give up terrorism" before talks can begin. Ms. Swaraj said, "Instead of four proposals, we need only one point: that Pakistan end support to terror groups."
Mr. Sharif told the UNGA on Wednesday that Pak had made trails to reach out India and to propose ceasefire formalization, Kashmir demilitarization and the Siachen Glacier besides to agree to end the use of force.
As a response to this, Ms. Swaraj said India wanted to go ahead with talks in a terror-free atmosphere. According to her, India wanted NSA level talks on "all issues related to terrorism".
"If the response is serious and credible, India is prepared to address all outstanding issues through bilateral dialogue," she said addressing the UNGA in Hindi on Thursday.
The minister gave a call to the world to unite on terror challenge and oppose countries which "finance, train and support terror groups". Also, she said that the Comprehensive Convention on International Terror should be passed the current 70th year of the world body.
Ms. Swaraj accused Pak of allowing "roam free" to mastermind behind the 26/11 Mumbai attacks and said it continued to send terrorists to India.
Also read: India Urges Pakistan To Vacate Pak Occupied Kashmir
-Sumana