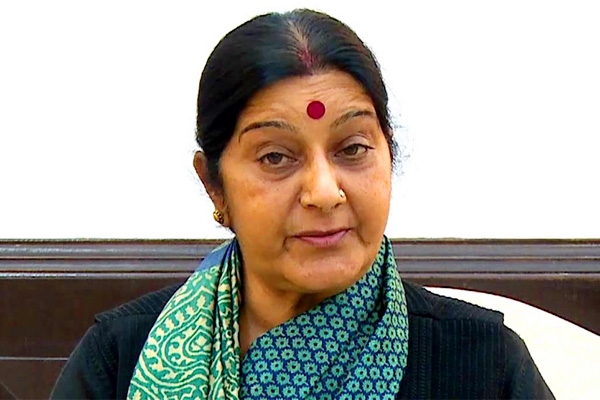 (Image source from: Opposition demands Sushma Swaraj's resignation})
Opposition parties have demanded the resignation of external affairs minister Sushma Swaraj's after she acknowledged that she had helped controversial IPL chief Lalit Modi in his efforts to procure the British travel documents on "humanitarian grounds". Swaraj had made the clarification through a series of tweets after a recent expose by a British newspaper stating that Keith Vaz, the well-known British MP of Indian origin, used the external affairs minister's name to pressure the Britain's top immigration officials to grant travel papers to Modi.
As an External Affairs minister, Sushma Swaraj has won the hearts of many by reaching out and helping Indians in trouble.
Few days back, Neha Agarwal Parikh, an analyst with a credit rating agency, tweeted a request to Swaraj for help to get her parents out of a tricky situation and immediately got her attention. Swaraj, ever the saviour, stepped in and quickly expedited the matter.
An Indian national, Agratha Dinakaran, tweeted that she had lost her passport and all her money while in Berlin. Swaraj's official twitter handle tweeted back at her asking her for her phone number and assured her that the Indian embassy in Berlin will be contacting her.
A month before the Germany incident, a woman in Yemen tweeted out a picture of her baby, asking for evacuation. Sushma Swaraj replied to her personally, ensuring evacuation.
India extended a helping hand to many nations during the Yemen crisis and it earned both, India and Swaraj, great acclaim.
"Yeh koi Quattrocchi ko desh ke bahar bhagaana ya Anderson ko Bhopal trashdi ke baad desh ke bahar jaane ki permission dene jaisa maamla nahi hai," said BJP President Amit Shah. Rajnath Singh, Home Minister said, "The government stands behind her. Ek manviya samvedna rakhne wale vyakti ko yehi karna chahiye, jo Sushmaji ne kiya hai."

By Premji