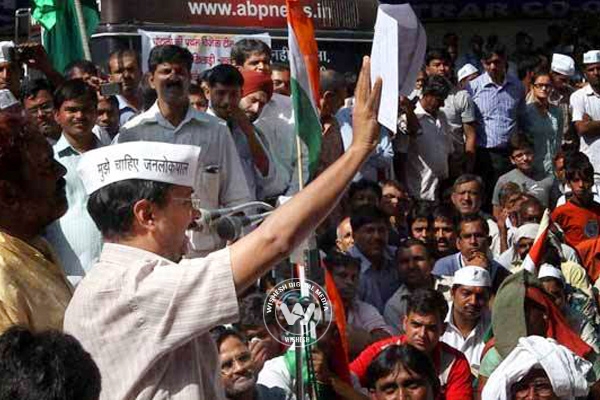 (Image source from: AAP to table Delhi Lokayukta Bill in Cabinet today})
Even as the apple of discord between the Aam Aadmi Party and the UPA government on who should control the Delhi police ploughs on, the Union government is heading towards another face-off, with Kejriwal and his team pitching for the much-debated Lokayukta Bill now.
Apparently, the Aam Aadmi Party wants to pass the Jan Lokpal bill at a public session of the Assembly held at Ramlila Maidan — the venue of Anna Hazare's historic agitation.
Kejriwal, who introduces the final draft of the much-debated Jan Lokpal Bill in cabinet today, said in a press conference, "It will be introduced in the cabinet on Friday and in 10-15 days there might be an assembly session where it will be passed." The bill seeks life imprisonment as maximum punishment for corruption and a minimum punishment of six months.
Styled on the lines of the Uttarakhand Lokayukta Act, the Jan Lokpal Bill, if passed, would bring office of the CM come under the ambit of the Lokayukta, as well as all MLAs and other government officials.
It also would give Lokayukta powers to seize all property and assets of the accused official. Given the nature of the promises made by party leaders, Central government leaders fear that the Delhi Lokayukta could very well be draconian.
Considering that the Delhi bill will require the assent of the President, and with Kejriwal and Manish Sisodia determined to pass the Delhi bill at a special session of Assembly in February, any delay by the Centre could snowball into another ugly face-off.
Presidential assent for the Delhi bill can follow in a week's time, if the bill falls in complete consonance with the Lokpal Act passed by Parliament.
AW: Suchorita Choudhury