Marakathamani Movie Review, Rating, Story, Cast and Crew
Rating:

Director:

ARK Saravan

Cast:

Aadhi Pinisetty, Nikki Galrani, Brahmanandam, Kota Srinivasa Rao

Banner:

Sri Chakra Innovations, Rushi Media, Axess Film Factory

Producer:

G Dilli Babu

Music:

Dhibu Ninan Thomas

Release Dt :

Jun, 16 2017
Story
Marakathamani is all about an ancient diamond with the same name. All those who plan to steal the precious stone get killed in mysterious situations. It is during this time Aadi (Aadi Pinisetty), a small thief starts hunting for Marakathamani. With the support of a priest, he takes the support of some evil spirits to stay alive. The rest of Marakathamani is all about the process of Aadi's journey with Marakathamani. Watch the film to know about many interesting facts.
Analysis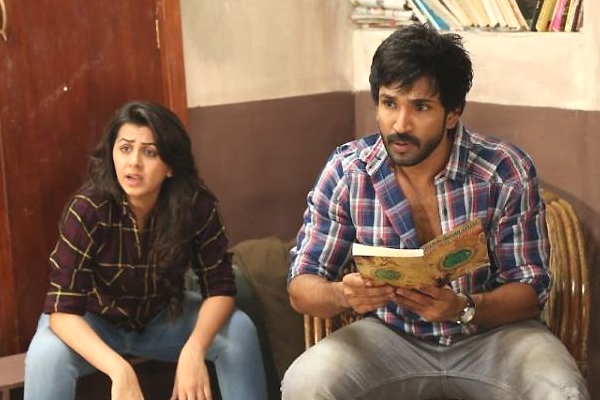 The first half of Marakathamani starts on a slow note and it takes much time for the real plot to be unveiled. Though the entertainment has been decent, the film has many unwanted episodes will kill the curiosity among the audience. It is during the interval, the major plot gets unfolded and it turns interesting. Aadi leads the show with his flawless performance and the love story looks fresh.
The second half of Marakathamani too has many unwanted episodes. The major plot has been kept aside for most of the time and the most interesting episodes have been hurried up. The pre-climax episodes look promising and by the time the film turns interesting again, the climax inches. The villain's thread looks completely silly which kills the film's flavour completely.
Performance
Aadi Pinisetty looks flawless in the role and he did it with perfection. He has been serious and entertaining in the role balancing both of them. Nikki Garlani has been decent in the assigned role though she had limited screen presence. Ramdoss looks convincing as a spirit and all the other actors delivered out their best in Marakathamani.
Marakathamani has an interesting plot tipped with fiction. But the treatment makes the film fall flat. The screenplay along with the narration looks outdated. The cinematography is the major highlight of the film and the music, background score has been decent. The production values make the film lavish and the director fails completely in churning Marakathamani into an impressive thriller.
Final Word
Marakathamani is one thriller which fails to impress the audience because of the bad execution. Aadi tops the show.
Stills from this movie
Videos & Trailers