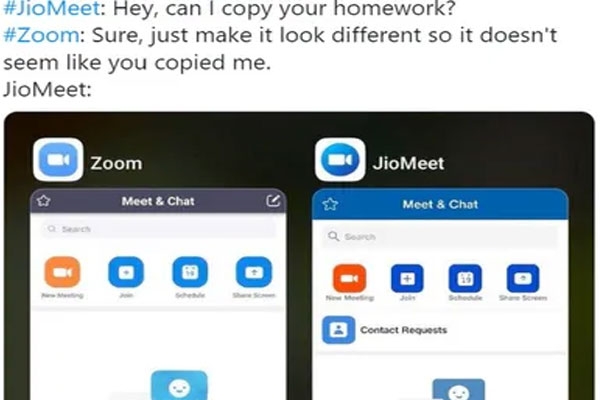 (Image source from: timesnownews.com)
Zoom which is a Video Conferencing app said that they are shocked by the resemblance between the two apps and are in discussing on taking legal actions against JioMeet.
Zoom Video Communications India, which is a company that handles the Zoom video conferencing app has said that they are shocked at the resemblance between both JioMeet and Zoom apps.
JioMeet which was launched recently by the reliance group under the Jio platforms has faced its fair amount of backlash on social media with all the trolling. The back lash was mainly regarding how similar JioMeet and Zoom are. Zoom which is in business for a long time with the number one video conferencing platform is not taking this plagiarism.
The users of Zoom went up during the Covid-19 pandemic as everyone was forced at being homes and working from their homes. All the meetings, interviews, workshops, and classes everything went from traditional to online over-night. This raised the demand for video conferencing app and only Zoom was in the picture. Zoom saw a high rate of increase in its users during the last 3 months.
With the ongoing tension between India and China, the government recently banned 59 China based apps from India. Zoom is also said to be a China based platform, though Zoom was not one among the 59 apps which were banned, still the boycott China movement had been going strong. During this time, Jio platforms headed by Mukesh Ambani, 7th richest man in the world came up with its own platform for video conferencing called JioMeet.
The only problem and backlash JioMeet is facing is it looks exactly like Zoom. The Indian head of Zoom Video communication, Mr. Sameer Raje spoke to a news agency and said that they knew it was coming and that this is not the first time Zoom is facing competition. He also mentioned that they have their full focus on their customers and what the competitors do is their strategy and not ours.
Mr. Sameer when asked about any legal action or lawsuit against JioMeet said that they are having a lot of discussion internally and that he would not like to comment on the same. He also mentioned that legal matters are very fragile and if there is any the legal team of Zoom India will look into that matter.
Zoom has been facing a lot of controversies from the past few months on its relation with China and the data storing and leaking of the data otherwise. It has been trying to expunge the information that is being spread of it being a Chinese platform. Zoom has been in touch with the government over the last 3 months on how it runs its platform and does not store data outside the country.
Mr. Sameer also mentioned that they are putting the truth forward that there is a lot of misinformation of Zoom being a Chinese origin. The controversy of Zoom storing and transferring data has been making rounds as well. Zoom has also been accused of leaking and sharing data to neighboring countries. Mr. Sameer the Indian head of Zoom also said that they are not a Chinese based company but an American company and also they do not share data with any government.
India has 2 data centres of Zoom Video communications in the country itself. On twitter a few days ago Zoom app also mentioned that Zoom is a United States based company and is publically traded on the NASDAQ. Zoom was founded in Sane Jose, California and is headquartered there as well.
Zoom became one of the most downloaded apps during the lockdown as India started to work from home and even educational institutes logged in online. However, in April, the Ministry of Home Affairs had red flagged concerns over data safety and security around Zoom. Amidst data security concerns, Sameer said the company's officials have met various segments of the government to assuage all fears.
During the months of April, May and June, Zoom India has been in constant touch with the Ministry of Home affairs and Ministry of Information and Technology to discuss technical information about the 2 data centres in India. Zoom also said that they have been sharing all the information with the law agencies and Government of India to keep open information and to stop the spread of misinformation about the platform.
By Deepika Agarwal