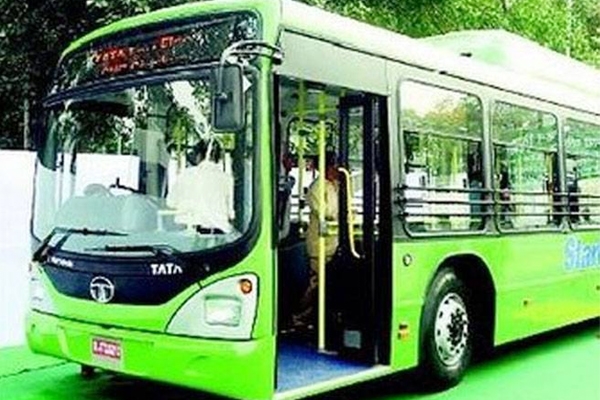 (Image source from: AAP embarks on free Wi-Fi services in Delhi buses})
The Aam Aadmi Party (AAP) Government has embarked on free Wi-Fi services on trial basis aboard a dozen buses of Delhi Transport Corporation (DTC). This comes after nearly a year that AAP promised it in its 70-point poll agenda.
It is not just free internet services. The buses, which are the part of the pilot project, are also equipped with Global Positioning System (GPS) as well as closed-circuit television (CCTV) cameras, according to Gopal Rai, Transport Minister. He said that each bus would be fitted with three CCTV cameras at the front and more three at rear side. Another camera would be fixed just next to the driver.
The Transport Minister said that the trial phase would see the three facilities aboard the ISBT-Airport bus service (DL1PC 9946), the Outer Mudrika (DL10C 7451), the Mudrika Sewa (DL1PC 8705), route number 764 (DL1PC 3205), route number 120 (DL10C 0348) and route number 781 (DL1PC 3206). The Delhi government collaborated with Airtel, Reliance and Bhumi Entek for the pilot project at hand.
Mr. Rai said, "There will be special stickers pasted on the seats of these buses to inform commuters about how to use the Wi-Fi services available for them. A commuter can use the Wi-Fi only for 10 minutes with a speed of 1 mbps." He requested the commuters to share the feedback on the internet services of those particular busses on the social media using hash-tag #aamadmiwifi. He also asked to share the feedback via an exclusive email.
Mr. Rai said, "After using the Wi-Fi in the buses, we request the commuters to send their feedback via e-mail at This email address is being protected from spambots. You need JavaScript enabled to view it. or to tweet with#aamadmiwifi. Once the trial run gets completed, we will invite the companies to collaborate in the project through the tender, and by March all DTC buses will have GPS system, cameras and Wi-Fi."
A helpline number was launched by the Transport Minister. The number is 8130344141. It for the sake of any problems faced by the commuters in the usage of Wi-Fi services or can even lodge complains concerning the bus service or DTC drivers and conductors.
-Sumana