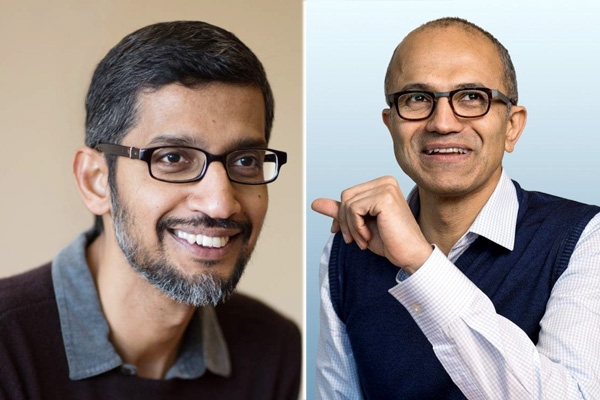 For technology giants, the year 2018 had been tough with full of controversies, data breaches, and lawsuits, yet amid that, Microsoft chief executive officer Satya Nadella has been named as the best CEO of a large company in the world in 2018.
With twists and turns, this year revealed the dark secrets that gave a glimpse into what goes behind the scene in these tech companies and also tested the mantle of the people that lead these companies.
The second spot was bagged by The Home Depot chief Craig Menear, while the coveted third spot was bagged by Google CEO Sundar Pichai, who is the only other Indian-origin CEO in the list of top 50 CEOs at large companies in the world.
Earlier this week, Comparably, a platform that rates companies based on a multitude of factors released a list of best CEOs of 2018.
The ratings were based on employee interviews that were conducted anonymously. Interestingly, in the survey, Microsoft employees gave Nadella 82 points on a rating scale of 100, which made the best CEO of a large company this year. The company also got an appreciation for its culture, diversity and perks and benefits.
Pichai, on the other hand, was rated 80 and his company, despite the anti-trust lawsuit in the European Union, and the Google+ bug that gave the private data of 52.5 million users to the developers, was appreciated for its diversity, culture and as the best place to work for women.
Interestingly, while the head of Google and Microsoft bagged the top two spots in the coveted list, shortly behind them in the list was Amazon founder Jeff Bezos, who bagged the 6th spot, and Apple CEO Tim Cook, who bagged the 12th spot on the list.
Elon Musk, on the other hand, despite all the controversies surrounding his tweets this year, was ranked as the 19th best CEO in 2018 by his employees.
-Sowmya