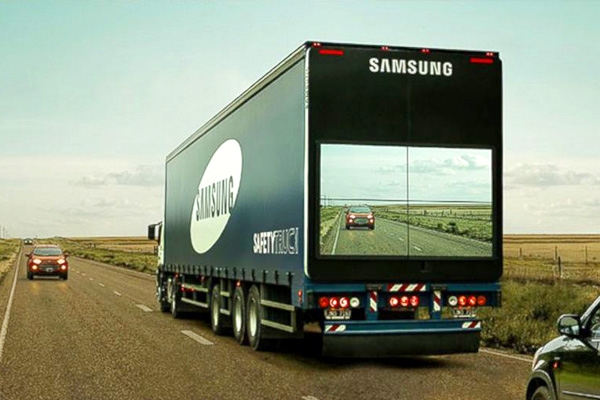 (Image source from: Samsung's new truck enabled with 'see-through' technology})
The Korean technology giant Samsung has come up with a concept which aims at reducing the risk of accidents on Highway. Samsung has tested its first see-through truck which will enable a driver to virtually see the vehicles coming from opposite side. This initiative is taken for car or two-wheeler drivers who are driving back of a truck and unable to view the vehicles coming/going from front end. This will result in accident, especially in night when the driver thinks to overtake the heavy vehicle.
With this 'see-through' technology, the drivers driving back of the truck can be safe and can decide when to overtake the truck.
"This allows drivers to have a better view when deciding whether it is safe to overtake. Another advantage of the Safety Truck is that it may reduce the risk of accidents caused by sudden braking or animals crossing the road," said a blog posted by Samsung Tomorrow.
A front-facing camera with night vision capability is installed in the front end which projects onto the back of the truck resulting in live video images.
- Smrutirekha