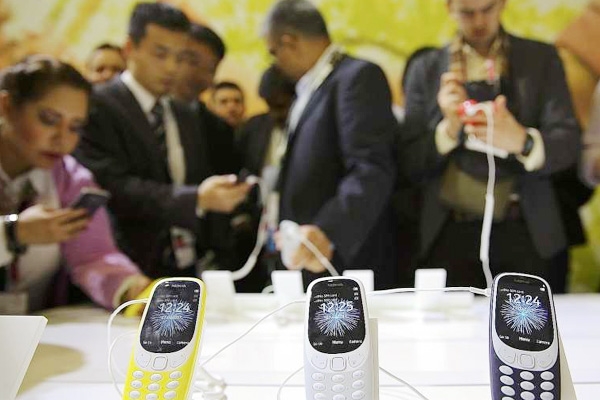 Nokia is ready to bring the re-boot model of iconic Nokia 3310 after 17 years. The handset would cost around Rs. 3,500 and will be launched along with other Android smart phones, next quarter.
The Chief Marketing Officer of HMD Global Oy 'Pekka Rantala said that all the products that have been announced like Nokia 3310, Nokia 6, Nokia 5 and Nokia 3 will be available in the second quarter of this year in India. The average global price for Nokia 3310 is 49euros.
The company has license to design and sell Nokia branded cell phones or tablets globally as well as use other technologies developed by Nokia Corporation.
Nokia's President and CEO 'Rajeev Suri' said the company is celebrating the new era of Nokia brand and is the reason why they were with the HMD Global. He was clear about that they would not license the Nokia brand to anybody. "It means so much to us," he said.
"We chose carefully. We looked at the market. We looked at Google, to be our brand licensing partner which could do this for a long time," he added.
The Company unveiled Nokia 5 and Nokia 3 smart phones built on Google's Android platform, Nokia 6 is already being sold in China.
Nokia 6 comes in two variants, one with 3 GM RAM and 32 GB internal storage retailed at 229 euros and the other one with 4 GB RAM and 64 GB internal memory with support of external SD card will be available for around 299 Euros. The Nokia 6 has 5.5 inch screen size with 16 MP rear camera and 8 MP front camera.
Nokia 3 and 5 models will have 2GB RAM, 16 GB internal memory and will support SD card of up to 128 GB.  Nokia 3 has a 5 inch screen with 8 MP camera rare and front, while Nokia 5 has 5.2 inch screen with 13MP rare camera and 8 MP front.
Rantala said that prices of new Nokia smart phones can differ a little due to taxation and other cost factors associated with individual countries.
Nokia 3310 was a classic phone, known for its robustness. The handset was widely popular across the globe in 2000-05. Estimated 126 million handsets were sold globally, when there were only a few countries with mobile networks.
The 3310 production was called off in 2005 globally. It was when India had very small cell phone market with 85 million mobile subscribers compare to over a billion today.
The new Nokia 3310 is a dual SIM 2.5G feature phone with 1200 mAH battery that promises around 22 hours of talk time with one-time full charge. It has 2.4-inch display, 2 megapixel camera with LED flash, Bluetooth and USB connectivity option, 16 MB internal with external storage option of up to 32 GB.
India third country to develop Apple iPhone
AMandeep