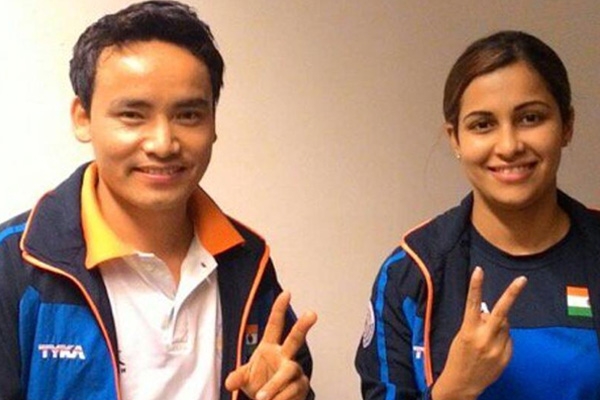 India had a lot to cheer in the ongoing ISSF World Cup at the Karni Singh Rangers in the Capital of India. As pistol shooters Jitu Rai and Heena Sindhu teamed up to win the 'gold badge' today (Feb 27) on the fifth day of the event.
Jitu Rai from the 11th Gurkha Regiment was the only shooter to clinch gold at the 2014 Asian Games at Incheon and has many World Cup medals to his credit. Rai teamed up with Heena Sindhu in the 'Mixed team Event' to clinch the 'badge' for India.
The 'Mixed Team' event made its debut in the opening World Cup of the season and medals are not being awarded even though the International Shooting Sports Federation (ISSF) executive committee has ratified the recommendations.
After the International Olympic Committee (IOC) approves of the changes of ISSF, the event will become 'official'.
Abhinav Bindra-led ISSF Athletes Committee recommended to include the mixed gender event and the world governing body soon ratified the proposal.
Heena Sindhu, the wife of pistol shooter Ronak Pandit, who is her coach now. The duo emerged on top and broke a path of not so good performance by Indian shooters, who have just managed one bronze medal, through Pooja Ghatkar in 10m air rifle, while Ankur Mittal won the silver medal in Mens's double trap.
Ankur's tally in the final round was 74 points, courtesy of which he won the silver medal, falling just one point behind James Willett from Australia who scored 75 points to claim the gold medal. While James Dedman from Great Britain, stood third with a total of 56 points.
Jose Mourinho opens after EFL Finals
AMandeep