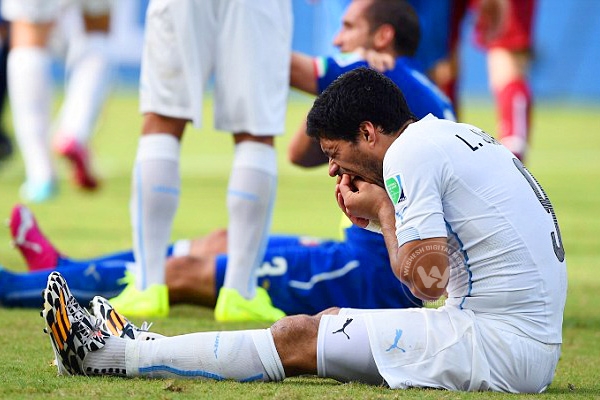 (Image source from: Luis Suarez might not kick another ball in the World Cup again?})
From Maradonna's "Hand of God" to Zinedine Zidane's head-butt, the World Cup has seen and suffered it all. But what the Uruguayan star-striker Luis Suarez did in last night's match will go down in annals of World Cup as one of the most terrible on-pitch antics. So far, we have seen soccer player rough up their rivals with hands, elbows or at worst, cleats. But incisions? No way!
That's right! The Uruguayan striker, who is pitted among the current crop of best players in the world, and is a regular offender in the pitch, is in the eye of the storm again. Considering what he did in last night's Uruguay's match against Italy, the star player might never get to kick another ball in the World Cup again.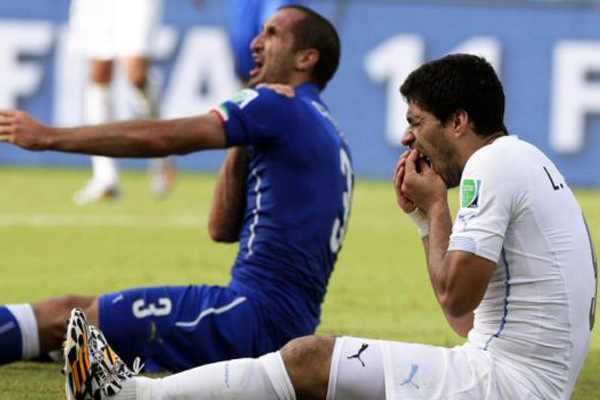 For the third time in his career, Suárez has irked the disciplinary panel by biting an opponent on the pitch — this time it's the Italian defender Giorgio Chiellini.
It happened on the biggest soccer stage of all, the World Cup, during Uruguay's 1-0 knock out triumph over Italy on Tuesday evening. During the second half, Suárez rammed into Giorgio Chiellini, while vying for position in the penalty area when he went and sunk his teeth into Chiellini's shoulder. The latter immediately fell to the ground. The referee — a Mexican named Marco Rodríguez, incidentally nicknamed as Dracula — overlooked Chiellini's bite marks on the back of his left shoulder.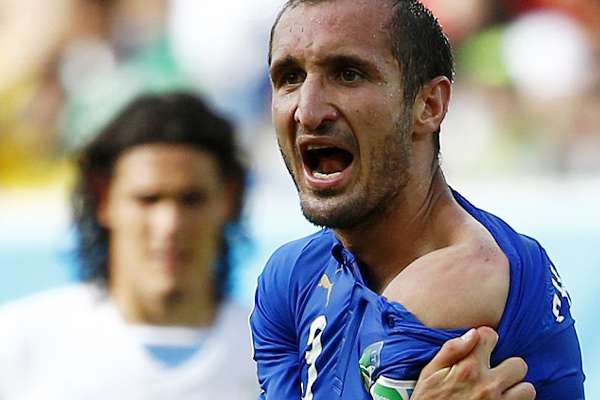 When Uruguay plays the next Round of 16 match on Saturday, expect Suárez to be gone. FIFA has a disciplinary panel that can suspend players for on-field actions that are not seen by the referee. Considering the severity of his action, the suspension order is likely to come before the next match.
A gifted player, a not-so-ambitious Suarez broke into the soccer territory just as a means to marry his girlfriend who had relocated in Spain. With the coins he collected from doing a sweeper's job, he would take her out on dates. But all thanks to his brilliant goal-scoring exploits, he finally managed to marry her. Now that's some fairytale romance intertwined with football, isn't it?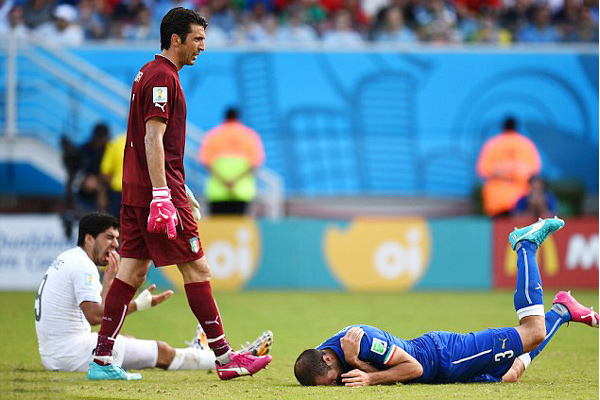 Not really! Only if life was a fairytale, could Suarez have gotten away with the controversies he has ruffled along his career. From headbutting a referee at the age of 16 for unfairly packing him off field to biting PSV Eindhoven midfielder Otman Bakkal's shoulder in 2010 (for which he was banned from seven matches) and from racially abusing Patrice Evra by calling him a 'negrito' in 2011 to biting Branislav Ivanovic in 2013, Suarez soccer career has been mired with controversies. But somehow his above-excellence performance in the sport always made people overlook them. His on-field conduct may have divided opinion, but his credentials as a player who cold lift his team on his own were never in doubt.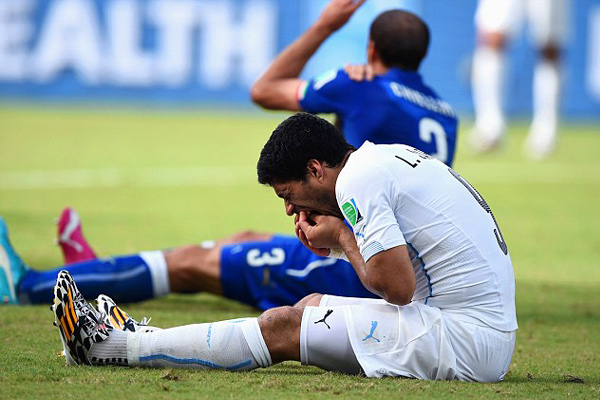 However, his last night's act could cause him more pain than the toothache he got after clashing with Chiellini. Even if there was no bite, there was a blatant head-butt that might not be forgiven nor forgotten easily by FIFA.
Suarez now runs the risk of writing off all his goals because of a stupid bite. A ban is inevitable this time — and FIFA seems quite resolved to act. Suarez needs to put an end to his antics, and the only way that will happen is if Suarez is banned.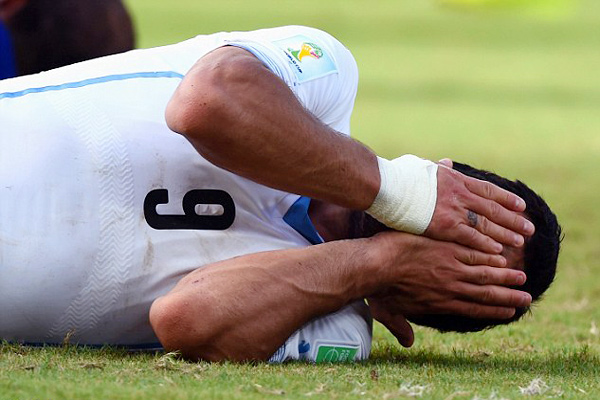 While defenders believe that Suarez's tendency to bite is an instinctive reaction that he picked up during his formative years, others deem it as self-preservation — maybe even an incredible will to win that makes him see the football pitch as a gladiators ring where do-or-die matches happen.
But Suarez has nothing to lose. He is an exceptional footballer who has been playing in Europe for the last eight years. He leads the line of one of the most historic clubs in the world, a father of two lovely children, and Uruguay's talisman and darling.
Considering everything, wonder if the latest controversy could really bring in a massive ban?
AW: Suchorita Choudhury