With the playoffs on the line and a mediocre total of 169 to chase, Rising Pune Supergiant would have been beaming with confidence. But little they know that Zaheer Khan and his team still had the one thing left in them. Delhi is out of this year's IPL but they were not going to let this match go away that easy and they turned things on to complicate RPS' playoff chances.
Chasing 169 at Feroz Shah Kotla, Delhi, Pune already lost four wickets for 125 – when former skipper MS Dhoni walked in. He was greeted with loud cheers, but it was not his day as Pune fell short by seven runs, managing only 1621/7.
When Dhoni came to bat the required run rate was way too high and he got run out, which happens rarely. Dhoni did not even get enough deliveries to settle down, unlike Manoj Tiwary, who scored 65 off 45 balls. In the final over Tiwary did hit back to back sixes, but it still was not enough.
With this loss, RPS' hopes of a playoff berth still hang in the balance, while Delhi played the perfect party pooper.
Pune skipper Steve Smith made a good start as he sprinted the score on the board with some exquisite shots of both the front and back foot after Zaheer Khan bowled Pune opener Ajinkya Rahane. He was greatly supported by Mohammad Shami and Shahbaz Nadeem. Zaheer also claimed the wicket of Rahul Tripathi and could have gone for a third wicket if Karun Nair had not dropped Tiwary on 40.
The hosts took a smart decision to bat on a pitch that was conducive to stroke-making. Delhi lost two quick wickets, but Nair allowed the momentum to drift by playing shots along with Rishabh Pant to keep the scoreboard ticking. Scoring 64 off 45 balls Nair helped Delhi reach 168/8.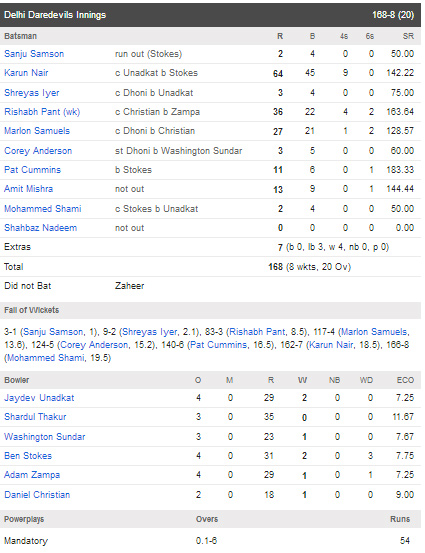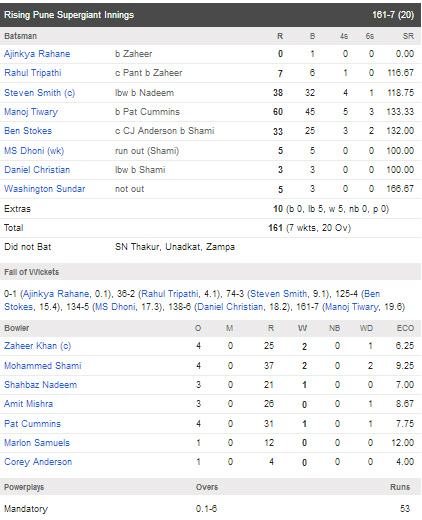 AMandeep