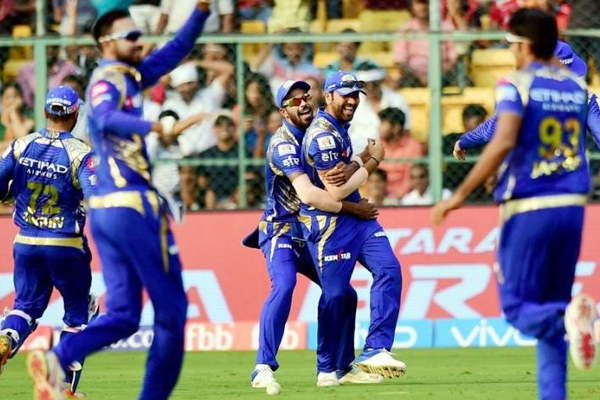 Mumbai Indians on rampage conquered Kings XI Punjab at the Holkar Cricket Stadium, Indore with a spectacular chase to win their consecutive match of the tournament by a comfortable eight wickets.
Mumbai skipper Rohit Sharma won the toss and put Punjab in to bat first, deciding to go with the tournament of chasing so far. After all, 12 victories this season have come for teams batting second.
Batting first, Punjab had set a target of 198/4, still 20 runs less than what Mumbai Indian's bowling coach Shane Bond had predicted on this pitch.
A grand century from a composed Hashim Amla, it was the kind of innings that, every once in a while, can end up unmasking the monstrosity of the very format.
In the last five overs of the innings, Kings XI almost made Sharma's decision look like a bad one. In the absence of Manan Vohra, who was unwell and had to be rested, Punjab brought in Shaun Marsh, who started off well.
Between 6th and 9th over, Kings XI did not have a single boundary. It was only after the fall of Wriddhiman Saha's wicket that the Amla-Maxwell duo blossomed and spiked the run flow.
Exactly 50 runs were scored in the 15th and 16th over with Maxwell taking 28 off McClenaghan and then Amla hammering Malinga for 22.
It took an exceptional effort from Mumbai Indian's most reliable bowler, Jasprit Bumrah to stem the rot. He sent Maxwell back to the dressing room.
But Amla's century went in vain; as Mumbai's four batsmen chased the mammoth score that to within 15.3 overs.
It was not supposed to look this easy for Mumbai, but Nitish Rana joined hands with opener Jos Butler to make the result look extremely one sided.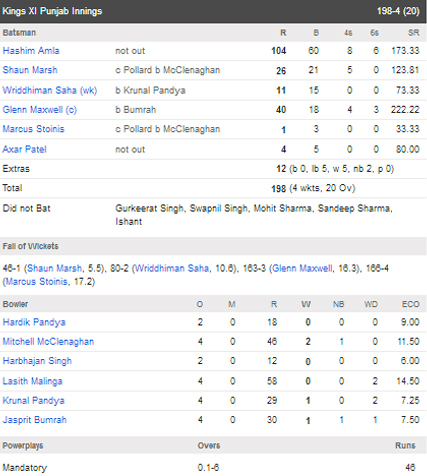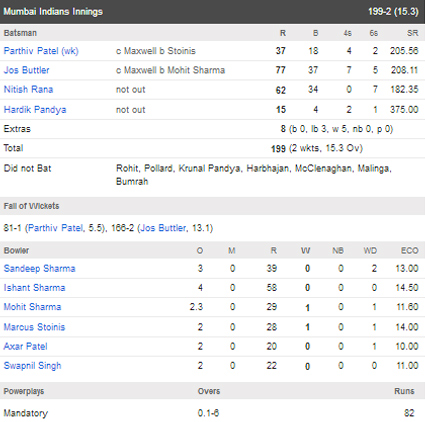 AMandeep