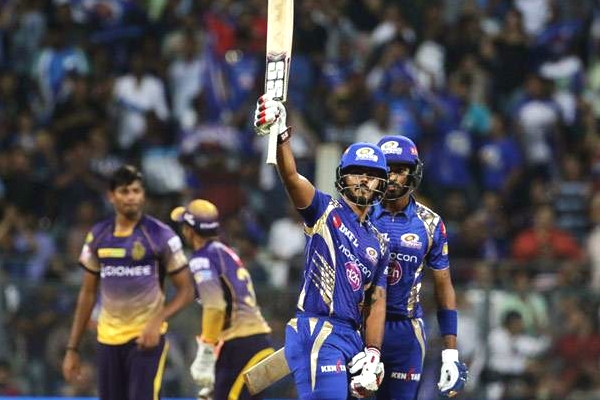 It was the second match for both Mumbai Indians and Kolkata Knight Riders. After the first loss against Pune, Mumbai gave their everything, even though the odds were against them. Visitors were quite confident.
As both the teams have lifted the trophy twice, aggressiveness and the controversy came along.  
Mumbai won the toss and chose to ball first. The decision was strategic, as in the first match Knight Riders chased a score of 184 losing no wickets, and Rohit Sharma was willing to take no risk in this case.
Openers Gautam Gambhir and Chris Lynn lost their charm in this match, especially Gambhir, who scored 19 off 13 balls and Lynn 32 off 24 balls.
Manish Pandey saved the day for his team; he astonishingly scored 81 off just 47 balls with a strike rate of 172.32.
Knight Riders ended their innings at 178 in 20 over's. The score could have jumped up to a better figure, if Yousuf Pathan would have performed a little better.
The first three batsmen for Mumbai added 108 runs. Openers Parthiv Patel 30 off 27 balls and Joe Buttler 28 off 22 and Nitish Rana, who came in third scored 50 off 29.
The match was on the home-side. But, to their misfortune two bad decisions from field umpires CK Nandan and Nitin Menon just reversed the game, giving a clear advantage to the visiting side.
Nandan's horrible leg before decision to send back skipper Rohit Sharma - when the ball had clearly taken a huge inside edge, and Menon's equally poor decision to send back Jos Butler - when the ball was clearly going down the leg side, put them in a miserable condition.
Despite a good start chasing 178, Mumbai Indians began wilting under the unexpected pressure. However, Hardik Pandya held the match during the final over's of the match to take the home side to a victory by four wickets in stunning style by scoring 29 off 11 with 3 boundaries and 2 sixes in the final overs. All thanks to Rana's half-century and Pandya's finishing touches as Mumbai chased 60 off 23 balls and opened its tally in the tenth edition of IPL.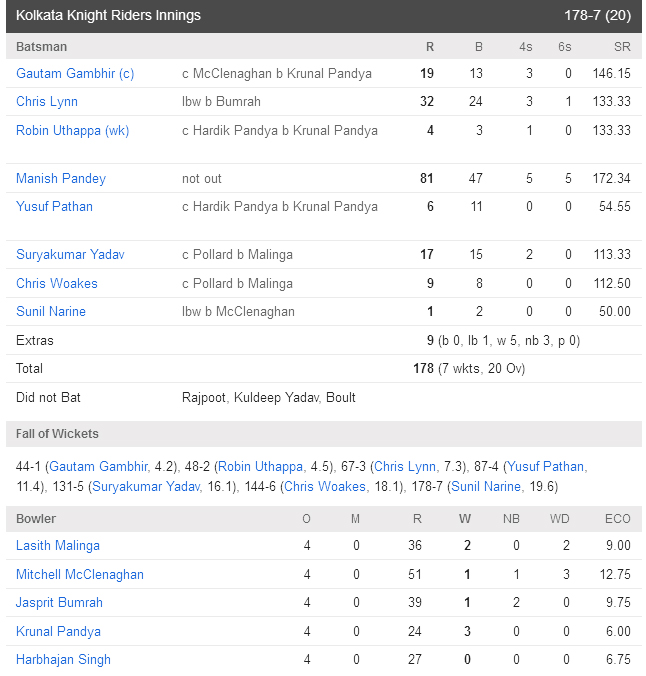 Kolkata Knight Rider's grand entry with a stunning win
AMandeep