(Image source from: Master Blaster Sachin Tendulkar to receive Bharat Ratna today})
Finally the momentous day has come for Indian cricketing legend, Sachin Tendulkar, to receive the the much-awaited, much-coveted highest civilian honor - the Bharat Ratna, today.
The master batsman will receive a sanad (certificate) signed by the President and a medallion from Indian President Pranab Mukherjee in a function at Rashtrapati Bhawan to be held in the national capital today.
Tendulkar (40), who decamped from international cricket on November 16, 2013, will be the first Indian sportsman to receive the country's highest civilian honor ever.
The big news was broadcasted by Rashtrapati Bhavan last year November, hours after Tendulkar played his 200th and farewell Test against the West Indies in Mumbai. Quite interestingly, the momentous decision to honor the batting maestro got underway on the first day of his farewell 200th cricket Test on November 14, 2013 and the announcement came two days later.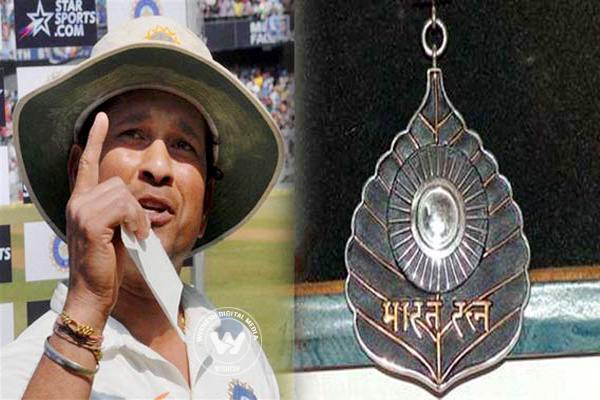 An official statement read as "Tendulkar has been a true Ambassador of India in the world of sports and his achievements in cricket are unparallelled, the records set by him unmatched, and the spirit of sportsmanship displayed by him exemplary."
"That he has been honored with several awards is testimony to his extraordinary brilliance as a sportsman," it said, lauding the fact that Tendulkar has played cricket across the world and won laurels for the country during the 24 years of his glorious cricket career.
The Bharat Ratna medal that will be conferred to the little master today was made in 2000, the year he quit as captain of India. The India Government Mint in Kolkata has spruced up the medal, worth Rs 2 lakh, and sent it to the Ministry of Home Affairs last week.
Bharat Ratna, India's highest civilian award instituted in 1954 recognizes exceptional service or performance in any field of human endeavor.
AW: Suchorita Choudhury
#sachintendulkar, #bharatratna