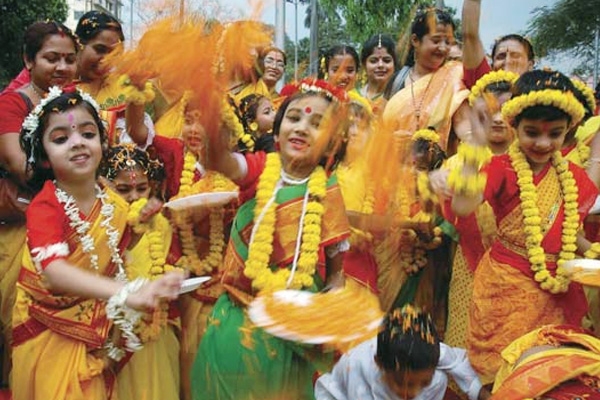 (Image source from: britannica.com)
Indian nationalists account for a large number staying overseas and since scores of them have put down roots there since ages it would be knotty to Indian origin parents to make their young ones become competent and be conscious of what traditions, culture and practices India hold.
Indian culture is in a class by itself and is one of the oldest cultures in the world. Many elements of India's diverse cultures, such as Indian religions, cuisine, philosophy, martial arts, languages, music, dance, and movies have a profound consequence across the Indosphere, Greater India and the world.
The country that has many religions, beliefs, languages, and foods. Though Indian descent Kids living overseas are familiar with the festivals and other celebrations they are missing out a lot.
Hints to Make Your Children Aware of Indian Culture and Traditions
Give Examples
The most advantageous mode of teaching is through giving befitting examples. Making your kids learn about India and its culture is by giving examples of your roots that will certainly have a better and profound impact on children. When they see the positive aspect of their own unique culture, they will be able to create a deep-rooted bond with it.
Celebrate Indian Festivals
Let your kid celebrate Indian festivals in the true ethos by abiding by the customs, traditions, and rituals. Consequently, it will give them a literal glimpse of Indian culture. Tell them the stories behind a particular festival.
Attend Cultural Programs
Indian cultural programs picture the elementary attributes of its culture. If there is any suitable opportunity, children should be taken to perceive cultural functions. The cultural programs of folk dances or songs probably help in making kids catch a glimpse of the undiluted and purest form of Indian art.
Diversity of Indian Culture
Children will not interpret the diverseness of Indian culture until and unless they are exposed to it. They should get a possibility to see the customs and traditions followed across different states of India to understand the heart and soul of 'unity in diversity'. They might forget what they read, but the imprints of whatever they see will remain in their minds forever.
Hence, take your kids to different states of India. Let them hear different languages, try traditional foods of a state, and see how people attire.
Indian Values
One of the most typical features of Indian culture is the abundance of values deep-rooted in a person right from their birth. Well-mannered conduct and respect for all are taught in every family. Being respectful to elderly and younger persons is of the essence Indian value practiced in every abode.
Likewise talking courteously is a major value which is practiced always. Children should be taught not to compromise on the values.
Travel Throughout India
Take your kids to a holiday to the different regions of India. The earthy appeal, the scenic beauty, the geographical, political, topographical differences can be well appreciated when seen.
Traditional Food/Clothing
Children should acquire a sense of respect for ethnic clothing right from their time of life. A social gathering can be planned during weekends and you can have traditional nutrients and wear ethnic outfits to promote Indian tradition.
Respect to Indian Culture
Children should take pride in their own culture. They should realize that people from other cultures come here to see this renowned culture. Only when kids develop respect for their own culture will they pass it on to the next generation.
-Sowmya Sangam