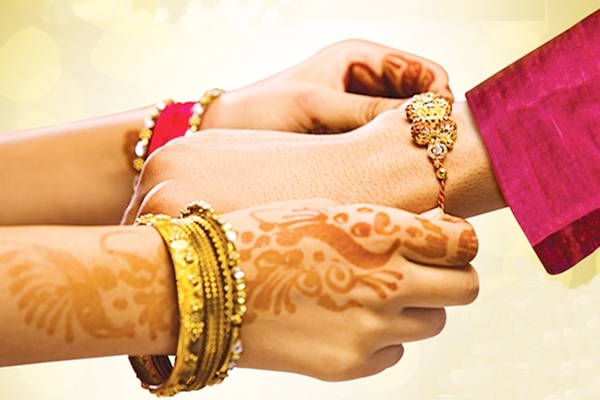 Raksha Bandhan is the festival of togetherness, that is all about affection, fraternity and sublime sentiments. Raksha Bandhan means a 'bond of protection'. This is an occasion to flourish love, care, affection and sacred feeling of brotherhood. In 2016, Rakhksha bandhan is on 18th August.
Raksha Bandhan is a regional celebration to celebrate the sacred relation between brothers and sisters. Primarily, this festival belonged to north and western region of India but Now the world has started celebrating this festival with the same verse and spirit. Rakhi has become an integral part of those customs. Rakhsha Bandhan is also known as Rakhi Purnima or Rakhi.
On the day of Rakhi, sisters prepare the pooja thali with diya, roli, chawal, rakhi thread and sweets. The ritual starts with a prayer in front of God, then the sister ties Rakhi to her brother and wishes for his happiness and well-being. In return, the brother acknowledge the love with a promise to stand by his sister through all the good and bad times.
Sisters tie Rakhi on the wrist of their brothers amid chanting of mantras, put roli and rice on his forehead and pray for his well-being. She bestows him with gifts and blessings. In turn, brothers also wish her a good life and pledges to take care of her. He gives her a return gift. The gift symbolizes the physical acceptance of her love, reminder of their togetherness and his pledge.
The scriptures, epics of Hinduism are full of stories of Rakhi and Raksha Bandhan. Krishna considered Draupadi his friend. When Krishna cut his finger while beheading Shishupal, Draupadi tore off a piece of her sari and bandaged his cut. Krishna said that with this loving act, she wrapped him in debt and he would repay each "thread" when the time arrives. Whenever she needed  protection she fervently prayed for Krishna's help, he came to the rescue and gave her unlimited cloth. This is one of the stories of the origin of the Raksha Bandhan festival.
According to one legendary narrative, when Alexander the Great invaded India in 326 BCE, Roxana (or Roshanak, his wife) sent a sacred thread to Porus, asking him not to harm her husband in battle. In accordance with tradition, Porus, the king of Kaikeya kingdom, gave full respect to the rakhi. On the battlefield, when Porus was about to deliver a final blow to Alexander, he saw the rakhi on his own wrist and restrained himself from attacking Alexander personally.
Rabindranath Tagore, the Indian Nobel Laureate for literature, started Raksha Bandhan and Rakhi, as the concepts of love, respect and a vow of mutual protection between Hindus and Muslims during the Brith colonization in India.. Rabindra Nath Tagore arranged a ceremony to celebrate Raksha Bandhan to strengthen the bond of love and togetherness between Hindus and Muslims of Bengal, and urge them to together protest the British empire.
For everyone, it is an opportunity of reunion and celebration. People also share tasty dishes, wonderful sweets and exchange gifts. For those who are not able to meet each other, rakhi cards and e-rakhis and rakhis through mails perform the part of communicating the rakhi messages.
Also Read: Navratri Pooja
By Prakriti Neogi