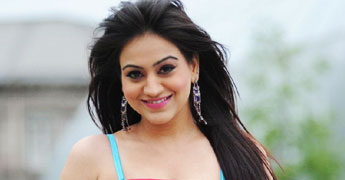 She is Hot, she is beautiful, she is a good performer, though a non Telugu speaking actress manages to tell all the dialogues with proper expressions in Telugu itself. And what more any film maker would expect from his Heroine to do. This is more than enough and Aksha proved that she is one such Actress, who has all the required qualities of a perfect Heroine. And no wonder, not even a single film opposite a single Big Actor before, Ashka appeared playing a lead role in Santosh Srinivas directorial, Ram's 'Kandireega'. Aksha got equal amount of good reviews infact more than the main female lead of the film Hansika. Aksha, more than happy about the success of the film, talks more about 'Kandireega', and her association with Telugu films;
I was amused to sign 'Kandireega'
One find day, I get a call from the film maker Bellamkonda Suresh's office, asking me to come for a audition for a role in Ram's 'Kandireega'. I thought why I don't try out the same. As a result, director of the film, Santosh Srinivas offered me a key role in the film that is in fact more important than the first heroine Hansika's role. My role requires a lot of drama to do on screen, lot of expressions to emote, and lot of variations to be showcased while enacting the character. I was very nervous to accept this role. Infact, I have asked the director of the film, Santosh ji to re – think on the decision for choosing me to do this role. But, thanks to the confidence he has on me, I only ended up doing the role. Today, the entire T – Town has recognized my caliber as an actress, and all credit goes to Santosh ji, who always had confidence on me, was patient enough to explain the importance of each and every expression that was asked to give by me and in turn how important is my character in the film. 'Kandireega's result satisfied me as an actress and I am looking forward to do more roles like this.
Ram, a Sweet Heart
I would definitely thank Ram for being a perfect co star. In fact he was very supportive, giving equal space to his entire co star. He is only considered about the success and good output of the film, not bothering any 'image' factor. He is an amazing Dancer, handsome hunk, excellent Actor, perfect co star and most important a good human being. He never had that complex of being a star Hero, used to gel well with all his co stars. I am looking forward to work in more films with Ram. Ram definitely has a long way to go in the industry.
Hansika, not much to talk
Well, I can't talk about the role of Hansika and neither can compare my role with her. After started working in the film, I understood how lovely it is to play a role. Had been offered the role of Hansika, I would definitely re – think on doing the same. I am in love with my character in the film. And Hansika plays a sweet, lovely girl in the film. As per the story, she does not have much on per plate to experiment with her role. But, would like to say one thing, Hansika is a professional artist, who is only considered about her work and does not take any further. I need to learn this quality of her's.
I am here to do quality work
There are many films that have come my way, but, I am here to do quality films and not any other films that come to me. Even I have done some mistakes in choosing films in the initial stages of my career apart from certain films like 'Yuvatha' and 'Ride', but not anymore. 'kandireega' has given me a plat form, now it is in my end how to make the use of this opportunity. I am 19 years old now, and aspire to have a long way to go in the industry. Here after, I will be careful in accepting the roles. The day I am asked to do some filthy role, with no other option left, I would instead prefer quitting the field rather than compromising on my work.
Finally, I once again thank all the audience for making the film a block buster success and the entire crew of 'Kandireega' for making me eligible enough to be a part of this film.